The Logan Rock
Leica M11 ISO 64 1/400th f6.8 35mm APO Summicron M
Introduction
The Leica M10 was announced on January 17th 2017, 4 days short of 5 years ago.
I was in Wetzlar for the launch, which was a wonderful affair, first of all we were wined and dined and then, after the presentation the store was opened and you could go and buy your own camera, I know several people who were so excited that they bought both a chrome and a black camera!
The M10 has been a sparkling success, with lots of variants over the last 5 years including the M10 Monochrom, the M10-D without a display screen the M10-P with a touch screen and quieter shutter, culminating in the M10-R with the improved 40mp sensor.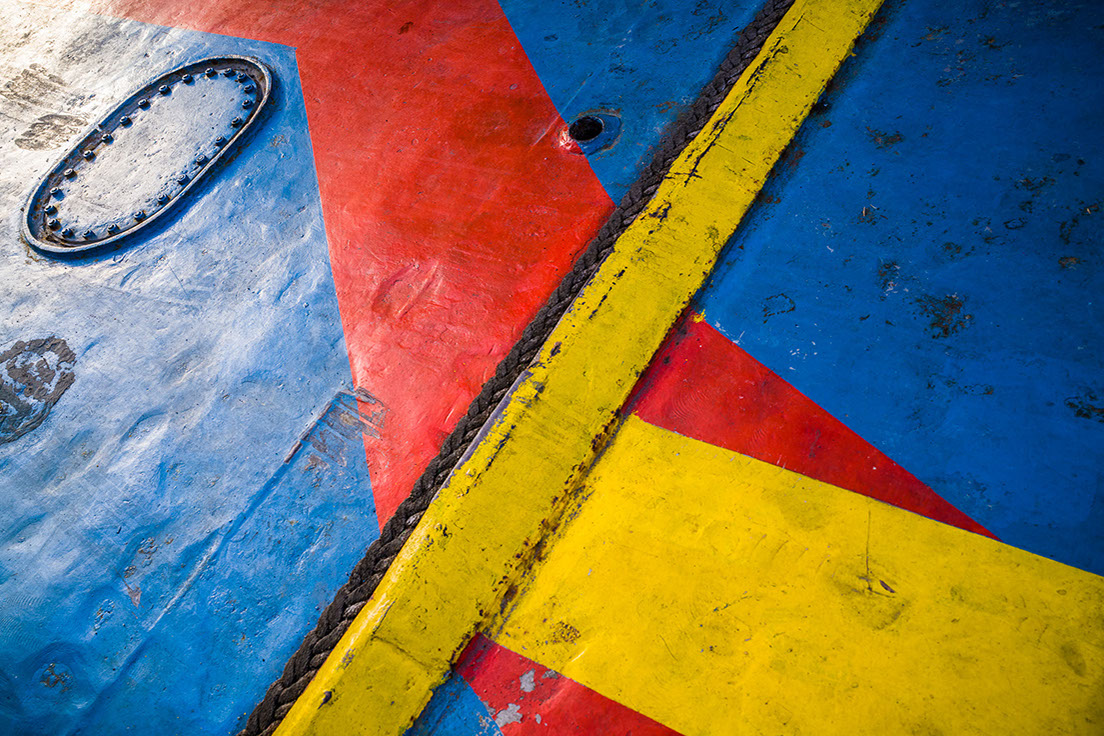 The Deck of the Daskiologiannis
Leica M11 ISO 320 1/160th f11 35mm APO Summicron M
I think that lots of people have been feeling that the M10-R is really the ultimate M, with a wonderful sensor, quiet and subtle shutter noise, the size of the M3 and a refined and accurate rangefinder. I must say, having been using the M10-R since 2019 I was very much feeling that nothing else was needed.
So how can Leica convince us that anything else is needed? Indeed, is anything else needed? I'm going to try and answer these questions during the course of this article.
I've been watching all the speculation (and leaks) about the M11, and people's responses to this has been very helpful in deciding what to write about in the article. I realise that my personal concerns aren't the same as everybody else's so it's been valuable to get a handle on what other people mind about.
I'm hoping that this will be a useful resource to anyone who is about to receive their new camera (or has just received it)
Please bear in mind that images were taken with a prototype camera and with early versions of the firmware.
- Generally speaking clicking on an image will open a larger sized jpg in a new window.
.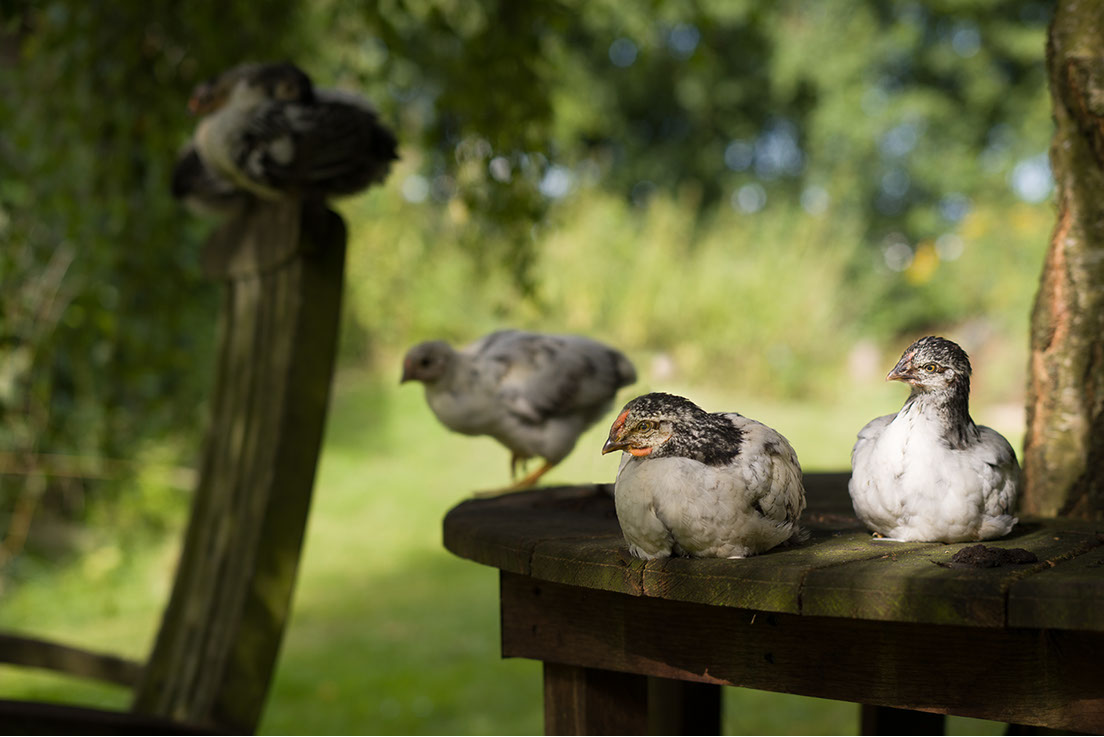 The Children of Clint
Leica M11 ISO 64 1/200th f4.8 50mm APO Summicron M
Looking Around the M11
Lets start by looking at what Leica have changed with the M11 (and there is a lot!).
Hardware
The Body
Superficially the M11 looks very much like the M10, the dimensions are identical and everything appears to be in the same place. However a closer examination shows a lot of differences.
First of all, there is no base plate. This is quite an emotional issue for lots of M users (myself included). Removing the base plate to replace the battery or get at the SD card slot could be bit of a pain, but it was also different from any other modern camera and more often rather a pleasure.
Of course it also represented continuity with the very early days of Leica film cameras.
The base of the M11 holds a battery (and battery release switch which is the same design as that on the SL2 and Q2 cameras). The battery however is different. more about that later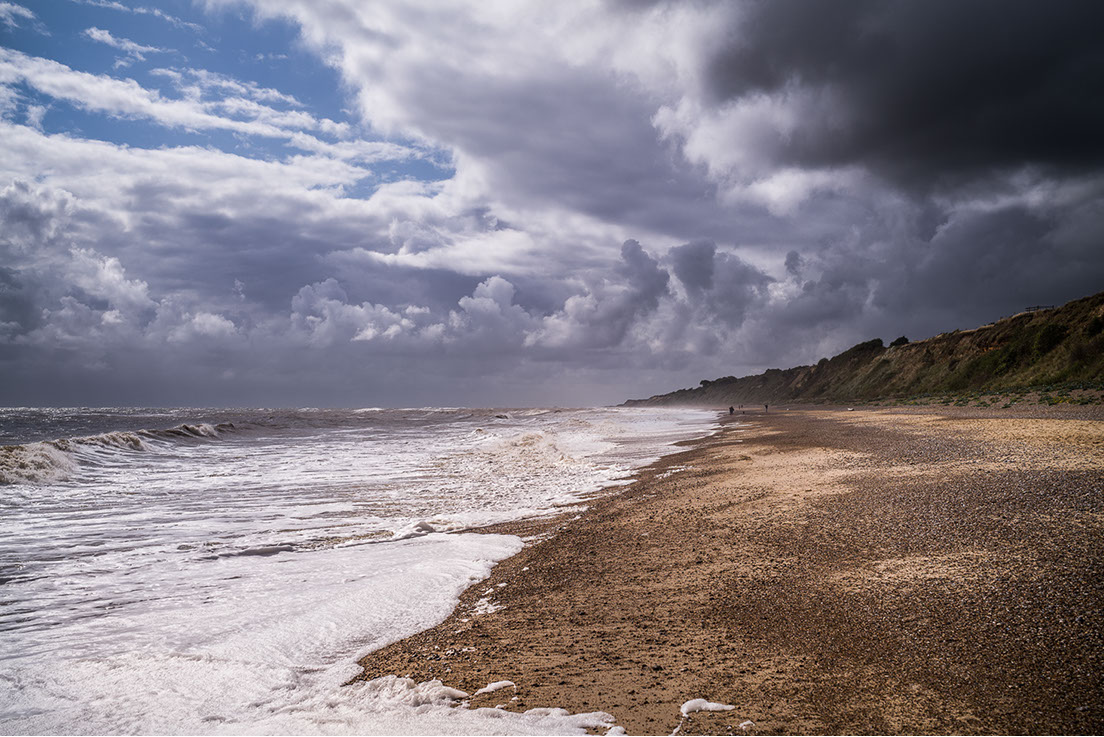 Covehithe
Leica M11 ISO 64 1/1000th f4 35mm APO Summicron M
New Button layout
Just like the M10 the M11 has 3 buttons to the left of the LCD, but unlike the Live View / Play / Menu options on the M10 they have been changed to Play / Fn / Menu options like the SL2, The Fn key defaults to turning on and off Live View, but it can be configured to any other function as desired.
The rear plate has been tidied up a bit - the buttons are now separate from the LCD, and the LCD is flush with the top plate and base of the camera.
The front configureable button on the M10 has gone, but there is a new button on the top plate (in the position of the Video button on the M(240). Like the Fn (above) this button can be configured to default to any particular menu option (I have it set to magnification like the old front button on the M10).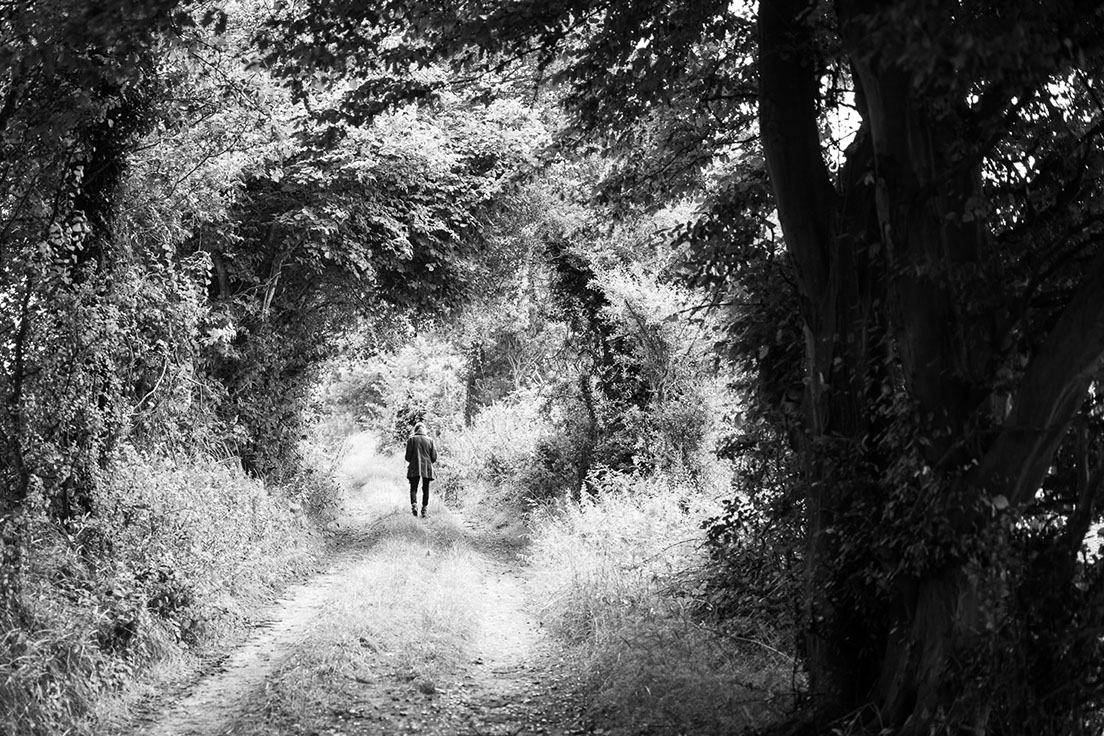 Light at the end of the tunnel
Leica M11 ISO 64 1/200th f3.4 50mm APO Summicron M
The third function button is accessed by a press of the rear thumbwheel: A short press of either of the Fn buttons will bring up the last selected menu option. A long press brings up the menu of available menu options, if you choose this, then it will be used as the default next time. The thumbwheel itself can be set either to Focus Assist, or to Exposure compensation.
The 4 way rocker switch hasn't changed, but now it is only used for navigation and confirmation. Pressing the central button doesn't bring up the status screen as it did in the M10 as all the status information is now included on the Quick Menu screen.
To summarise, there are now 3 function buttons, each of which can be configured as desired and the thumbwheel can be used in the same way as the M10. I'll go into the Menu options in more detail later on.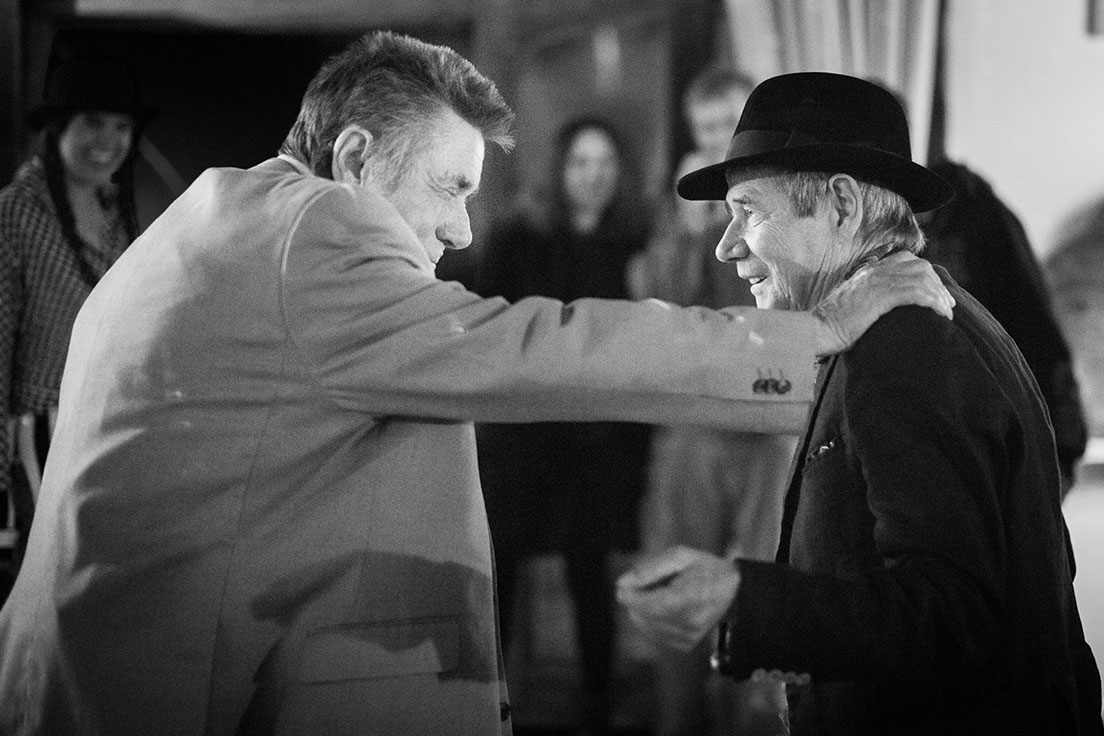 The Best of Mates
Leica M11 ISO 3200 1/125th f5.6 50mm Summilux f1.4 Asph
The Finish
Apparently the Black Chrome process has become un-ecological to continue with. So the new M11 comes with two finishes:
First of all a traditional Silver Chrome with a brass top plate, as before.
Secondly a Black Paint finish with an aluminium top plate. The new black paint is a modern solution and kinder to the environment.
The camera is also a a whole 20% lighter than the chrome version (532gm vs 660gm). This is quite a significant difference and will be relevant to many buyers. It also has a seriously tough finish.
After 7 months and trips to sandy beaches in Crete and in rainstorms in the UK, the finish only shows signs of being slightly shiny on the corners (with the same treatment the SL2 and my Q2 Mono looked decidedly worn, with worn corners and lots of bright points). I've been using a shoulder strap which rubs against the camera all the time (with no protector) and there is little sign of wear on the paint above the strap lugs. What's more the black finish is more 'grippy' than either the chrome or the old black finishes.
As I understand it the finish is the same as the 'reporter' editions of the M10 and Q2, except that it's black rather than green.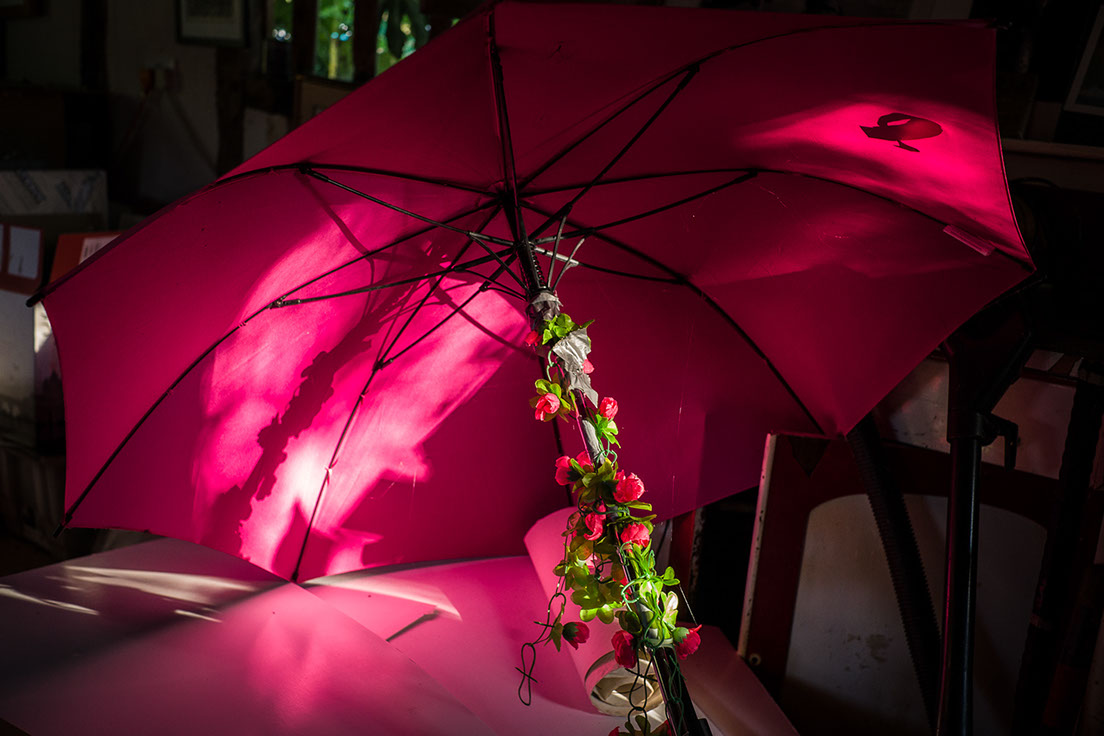 The Pink Lady's Tractor
Leica M11 ISO 800 1/80th f16 35mm Summilux f1.4 Asph
New Battery
One of the obvious shortcomings of the M10 was the battery life, especially when using the EVF. The new battery for the M11 is properly weather-sealed and fits into the base of the camera in the same way as the Q2 and SL2 battery (with a similar latch mechanism).
It would have been good if the new camera used the same battery as the Q/SL, but in that case they would have had to have a new compartment to hold the SD card, and as always with the M cameras space is at a premium.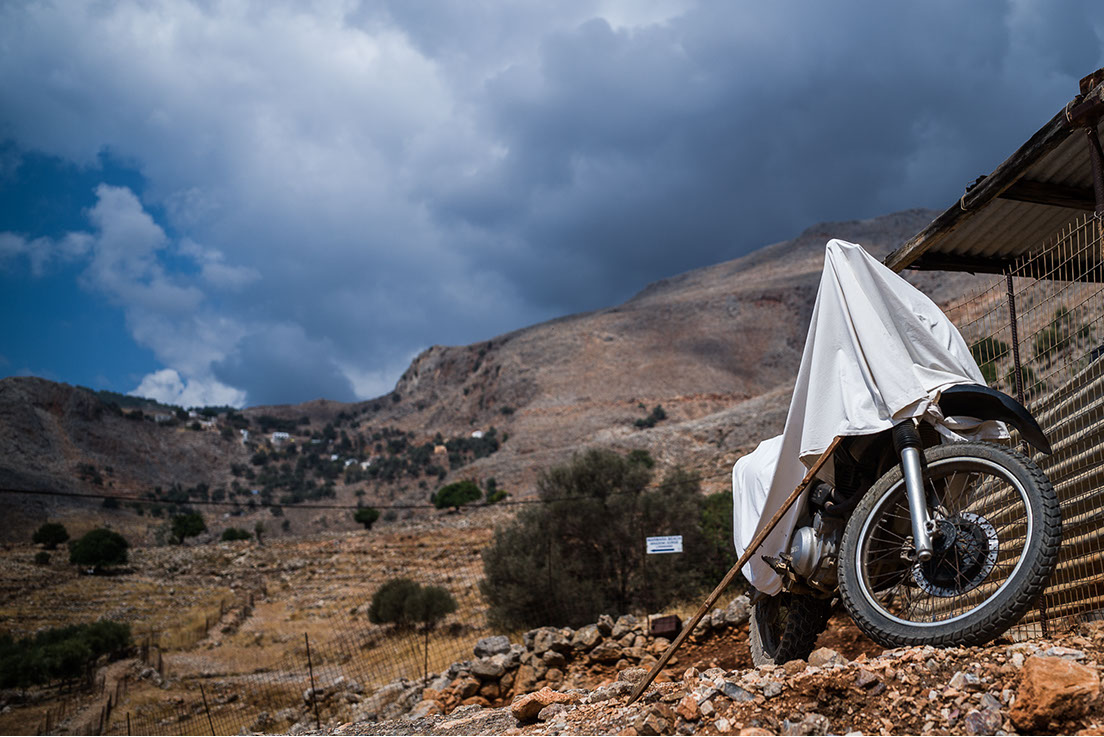 On the Edge
Leica M11 ISO 64 1/4000th f2.8 35mm APO Summicron M
So the new battery leaves room for an SD card slot on one side of it, the only downside is that the release lever is obscured when the camera is mounted on a tripod, it would have been nicer if you could change battery/card without having to take the camera off the tripod. On the other hand, with the greatly improved battery life and the internal memory perhaps that isn't quite so relevant.
The battery life is a really much better (CIPA suggests 700 images per charge), On occasions I've used 3 batteries in a day with the M10, but on the M11 I've not ever exhausted a battery in a day's shooting, even with the power saving switched off, and using the EVF full time.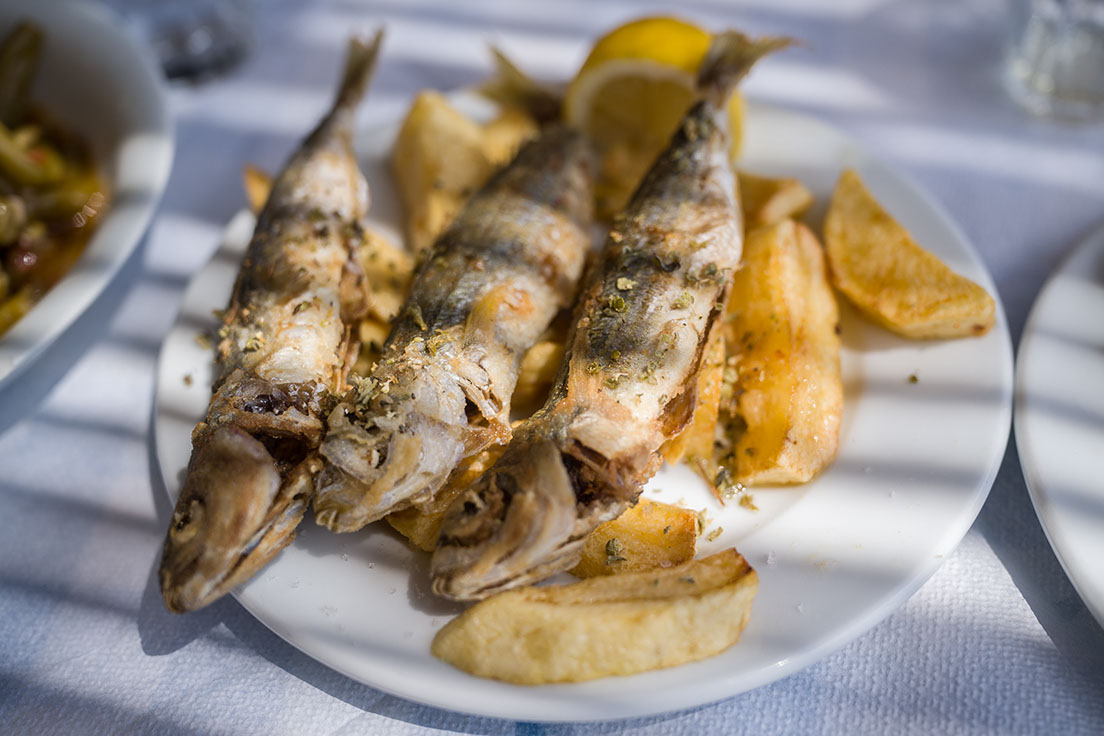 Sardines
Leica M11 ISO 64 1/1000th f2 35mm APO Summicron M
64Gb high speed internal memory
The internal memory is an alternative to two SD card slots (and presumably takes up less space).
If, like me, you are prone to grab a dog and a camera and head out into the world, only to find that you left your SD card in your computer, then the internal memory is a real bonus. The only downside is that you have to connect to the camera via the USB cable to get files from it, either that or else copy files from the Internal memory to an SD card (which is simple and works well).
Out of the Blue
Leica M11 ISO 64 1/400th f11 35mm APO Summicron M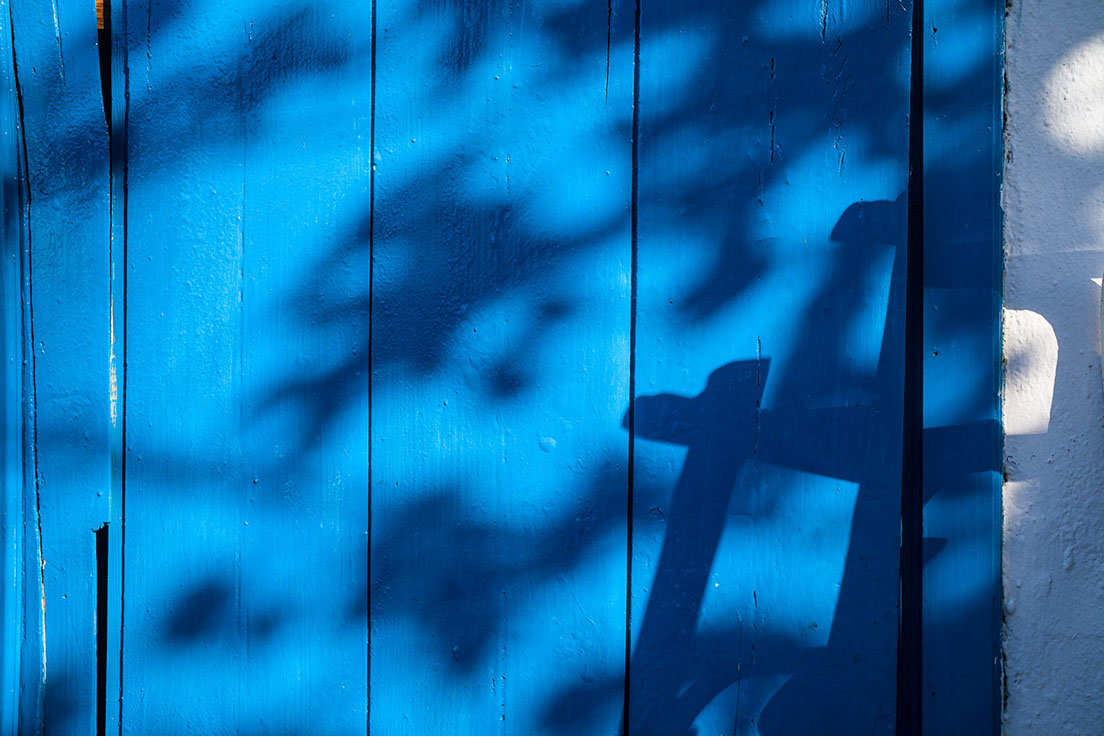 In To the Blue
Leica M11 ISO 64 1/160th f4.8 35mm APO Summicron M
High Speed Shooting and the Buffer
The camera also has a 3Gb buffer, which is enough for 15 DNG images and as many as 100 JPG images. There are two high speed shooting modes, one at 3 frames per second and the other at 4.5
New Maestro processor
The M11 has the Maestro III processor which is used in the SL2 and the Q2 to allow much faster processing and better power consumption. To be fair, I never found the M10 to be slow, and the M11 doesn't feel very much faster.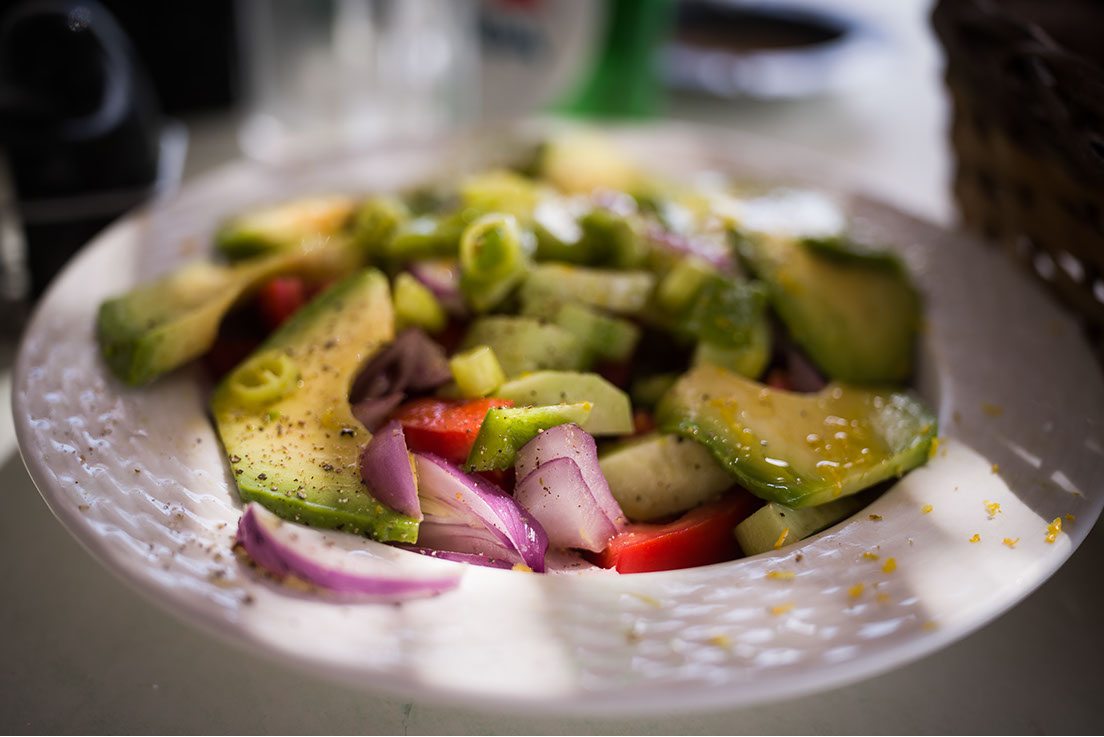 Sunny Avocado Salad
Leica M11 ISO 64 1/250th f4 35mm APO Summicron M
New 60mp Sensor & Image Quality
The M11 has a new 60mp BSI CMOS sensor. The base ISO is 64, so that's an improvement as well. The DNG files from the M11 are a joy to work with in Lightroom.
High ISO is about 1.5 stops better than the M10-R (which is still very good), but there is generally more detail available as the resolution is higher. I'm happy to shoot at ISO 5000, and 6400 is very usable and 12500, whilst losing some detail still has good colour,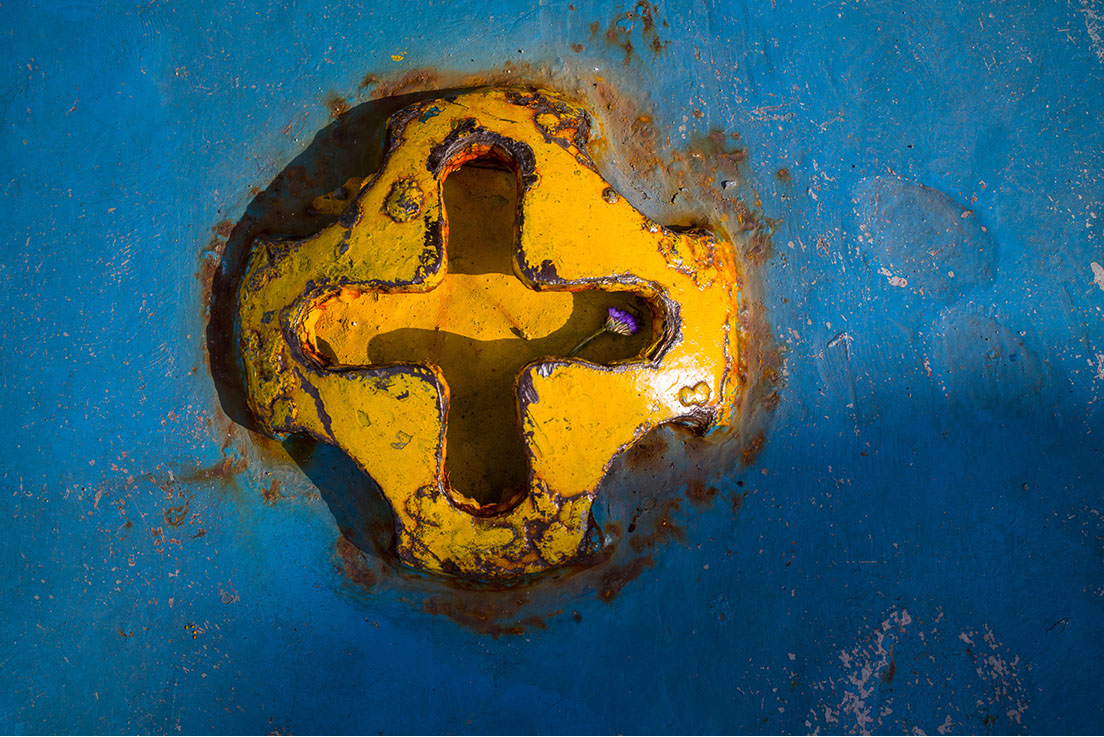 Statice on the Daskiologiannis
Leica M11 ISO 64 1/400th f5.6 35mm APO Summicron M
The M11 also shows noticeably less vignetting than the M10-R whilst the excellent colour feels more 'realistic' (although perhaps not so charming). Skin tones are excellent, in my opinion better than any previous M camera. I'm not a fan of Auto White Balance in daylight, but as a result of literally thousands of image samples being sent in to Leica during the testing period this works very well (in artificial light too)
The dynamic range seems to be very good (but I don't really have a way of measuring it); it is at least as good as the M10-R and probably a little better, although I found it very slightly easier to blow highlights than with the M10-R (the M11 is still much better than the 24mp M1o).
The amount of detail at 60mp is quite startling and suitable for very big prints.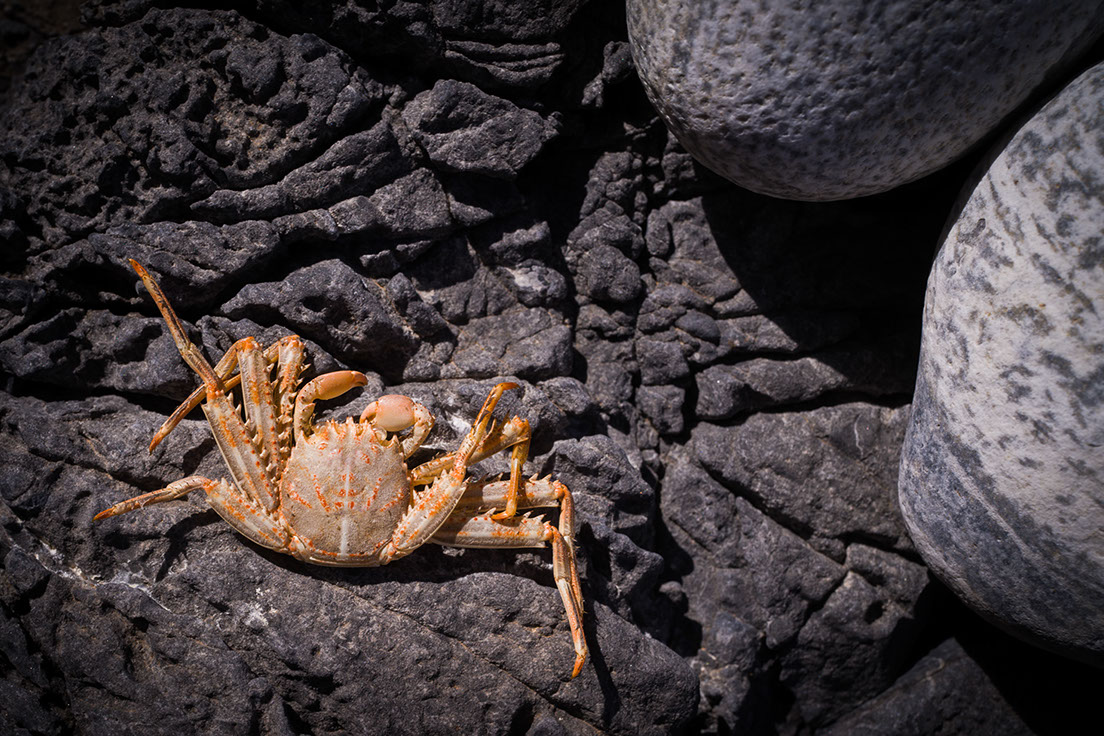 Pavlos Crab
Leica M11 ISO 64 1/250th f6.8 35mm APO Summicron M
Full Time off Sensor Metering
All previous M cameras with built in metering (with the exception of the M5) have metered off the shutter curtain. The M240 and M10 also metered off the sensor in Live View.
The M11 has dispensed with this, and now metering is only via the sensor, this has the advantage that the metering is much more accurate (with multi-point, centre weighted and spot metering options).
Live View metering is inherently slower as it means that the shutter must be open to take the reading and then shut and re-open to make the exposure: With the M240 and the M10 shooting was much slower than with Live View switched off (and metering off the shutter curtain), this isn't the case with the M11, but I'll deal with responsiveness later on.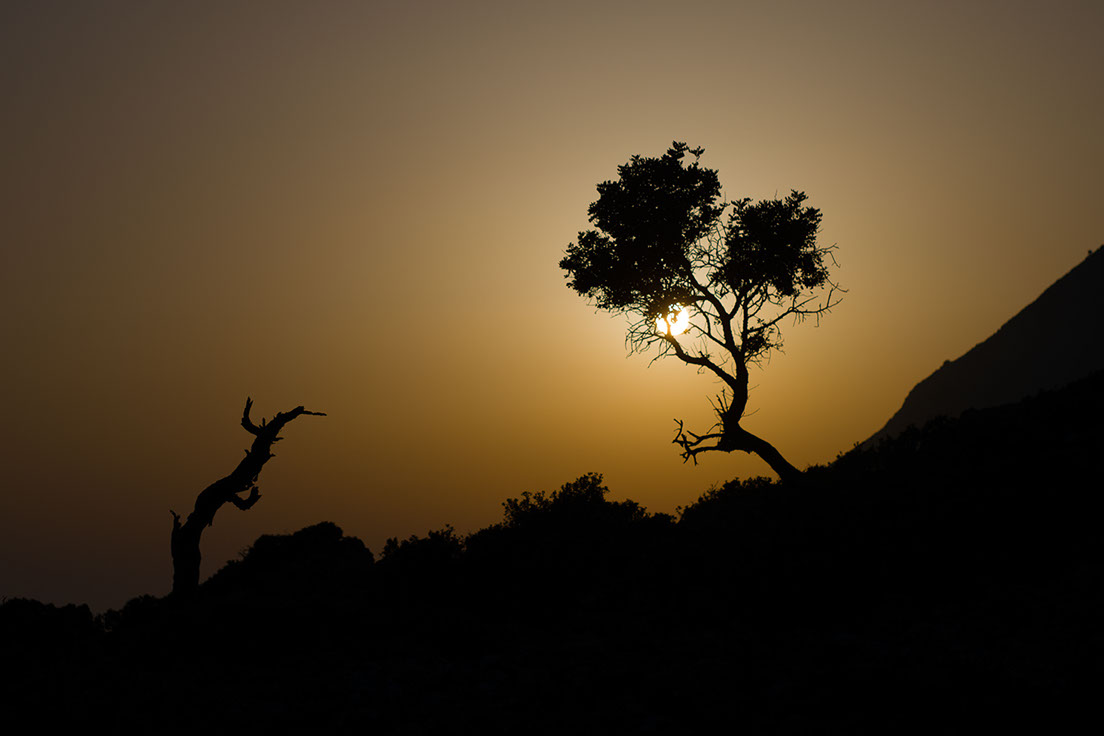 Sfakian Sunset
Leica M11 ISO 64 1/16000th f4.8 75mm APO Summicron M
Electronic shutter
With the M11, like the SL2, you can choose
Mechanical
Hybrid
Electronic shutter
With the mechanical shutter you have the same limit of 1/4000th as the M10, Hybrid uses the electronic shutter when the speed required is over 1/4000, Electronic uses electronic shutter at all speeds. The Electronic shutter goes up to 1/16000.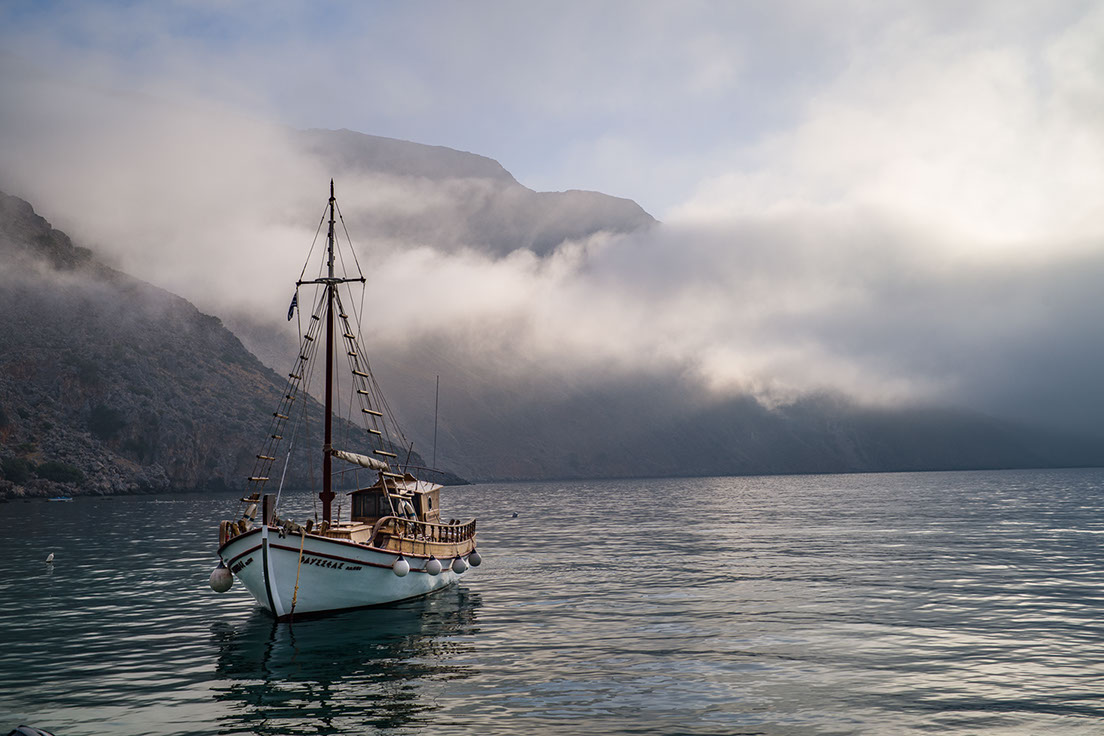 Ulysses
Leica M11 ISO 64 1/1640th f2.4 35mm Summilux M
The electronic shutter is fantastic for using fast lenses in bright light, but not for capturing sports or fast moving action. The readout on the electronic shutter takes about 1/10th second (CMOS sensors read line by line). This means that if objects are moving fast through the frame then you get tilted verticals and you may also get banding in artificial light,(depending on the shutter speed and the light source,) but for static or slow movement when you want to shoot wide open in bright light it's a real asset. These issues are found in many cameras which have progressive electronic shutters.
Worth noting that if you have set the camera to electronic shutter and you want to select shutter speeds above 1/4000th then you need to set the shutter speed dial to B, and you can then select the desired shutter speed in the menu.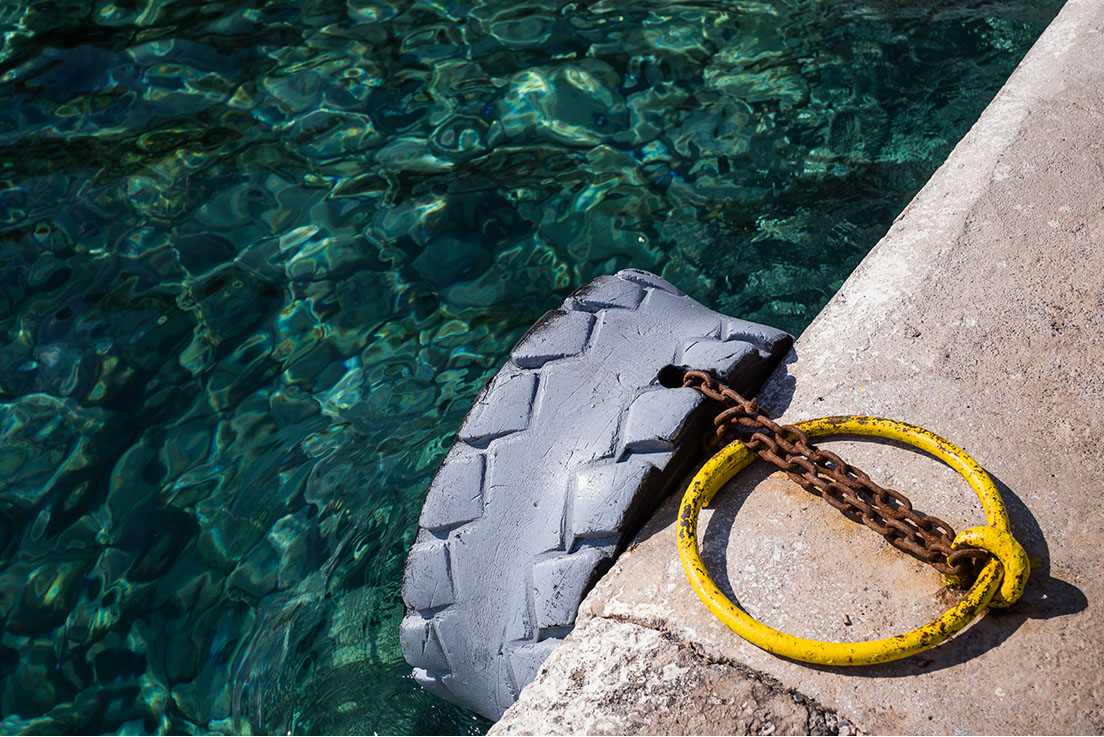 Tyre
Leica M11 ISO 64 1/320th f8 35mm APO Summicron M
USB - C
The Camera has a USB-C connector on the base at the extreme right (looking from the back). Not such a big deal you might think, but actually this is a real game changer. I'm going to discuss this at length later on in the article, (in Cables and Compatibility, and also in the Fotos section).
Enough now to say that it works really well for charging the camera (and quickly), and also for connectivity to computer / tablet / phone. There is no cover for it (just as there isn't in most modern phones), but it is weather sealed and dust doesn't seem to be a problem.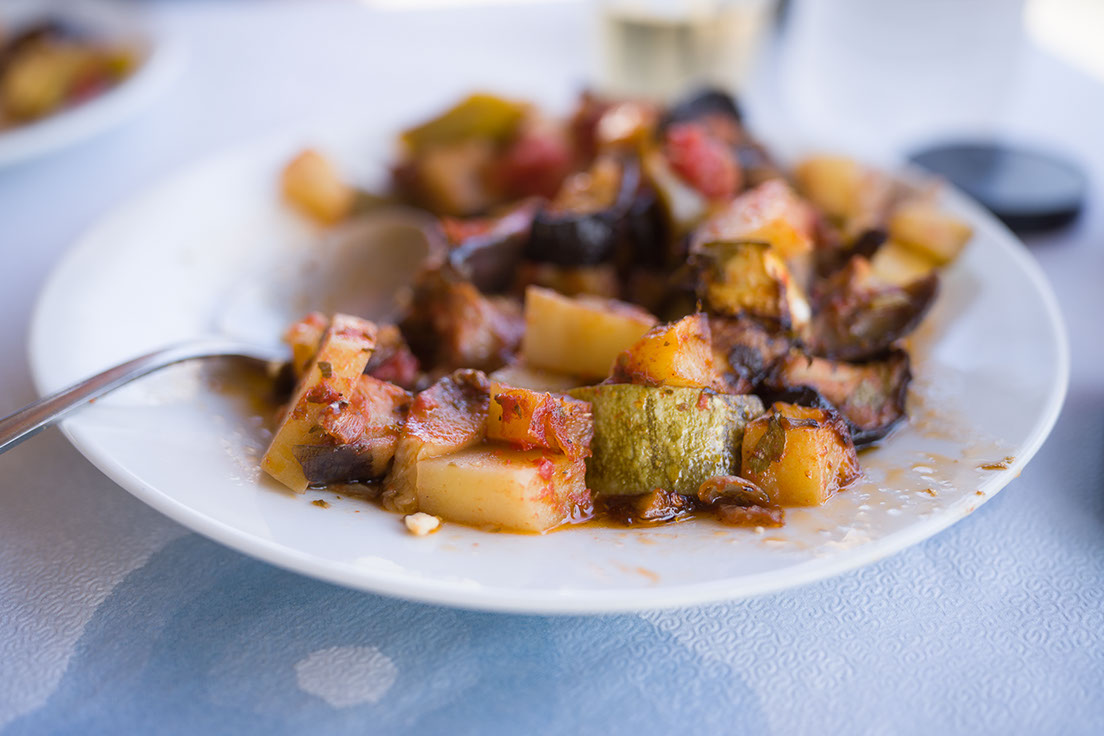 Briam
Leica M11 ISO 64 1/320th f2 35mm APO Summicron M
To connect to an iOS device with a lightning port you'll need Leica's special MFI compliant cable. To connect to most other devices a USB-c to USB-c cable works fine although I found difficulty connecting with an Apple USB-C thunderbolt 3 cable, all USB-C cables are not made the same! My feeling is that the M11 is less fussy than some of the other devices I've tried to attach.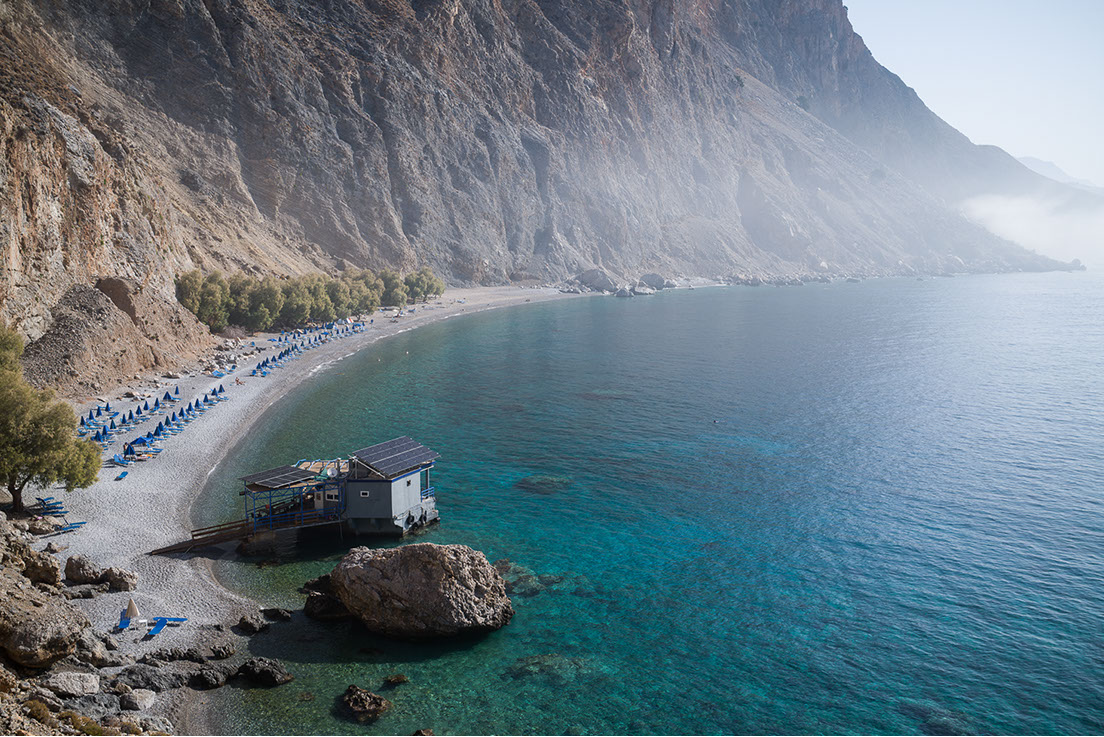 Sweetwater Beach
Leica M11 ISO 64 1/160th f11 35mm APO Summicron M
The New External EVF
The new EVF is a 3.7Mp OLED display, which sounds very much like that in the Q2 and certainly it feels that good.
It's very nicely made out of metal, tilt-able, with magnets to stop it tilting when you don't want it to! It has clear and useful detents at 45 and 90 degrees.
It suits the camera really well, flush with the body at the front, and although it's bulky, it's not as tall as the previous EVF, which means it fits better in your bag. The hot shoe connection is much more positive as well, making it less likely to fall off - mind you, a lock would have been nice!
There is still some 'black out' after shooting, and so it isn't quite so good for continuous shooting as the Q2.
Comparing it to the previous EVF on my M10-R the image is much larger and brighter and more detailed.
In this case the proof is in the use. With my M10 I almost never used the EVF, but with the M11 I've used it extensively. I think those who are lucky enough to have Noctiluxes will be very happy with it as well!
The new EVF will also work with all M10 variants, there will be a firmware update to enable this function which is due in March 2022).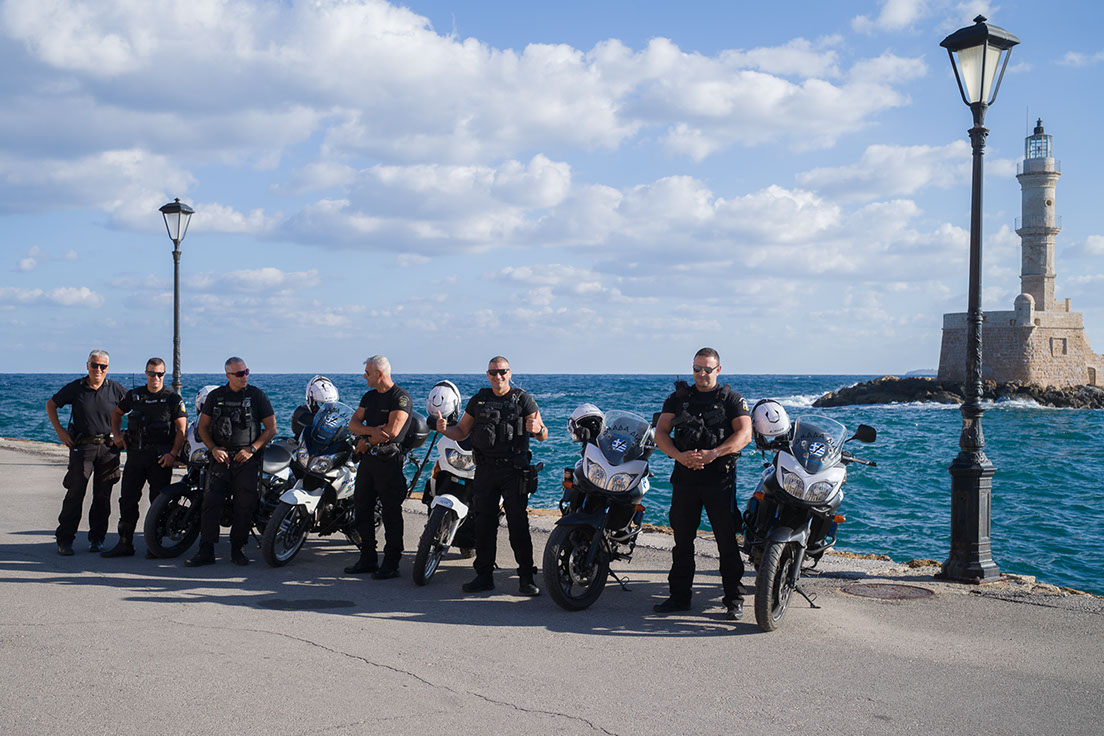 Cop Convention!
Leica M11 ISO 64 1/400th f6.8 35mm APO Summicron M
Firmware
Variable Sized DNG Files
This is an interesting idea, and I'm not aware of any other company doing the same thing. This is not a crop, it's a full frame image, but with a lower Megapixel count - with either 60, 36 or 18mp. They use Pixel Binning to achieve this.
3 different sizes
60mp 9504 x 6320
36mp 7416 x 4928
18mp 5272 x 3498
I've done some pretty careful test comparisons of the different image sizes, and although there is an improvement in noise levels with the lower pixel counts (as you might hope for), reducing a 60mp image in Post Processing software has a similar effect.
On the other hand I'm always reading about people who don't want the increased storage space of higher Mp files, and this gives you the best of both worlds in that you have the opportunity of more pixels, but you can shoot at lower pixel rates for less important shoots or when storage is at a premium.
If you shoot DNG+ lower resolution JPG files then the JPG files also have the lower resolution.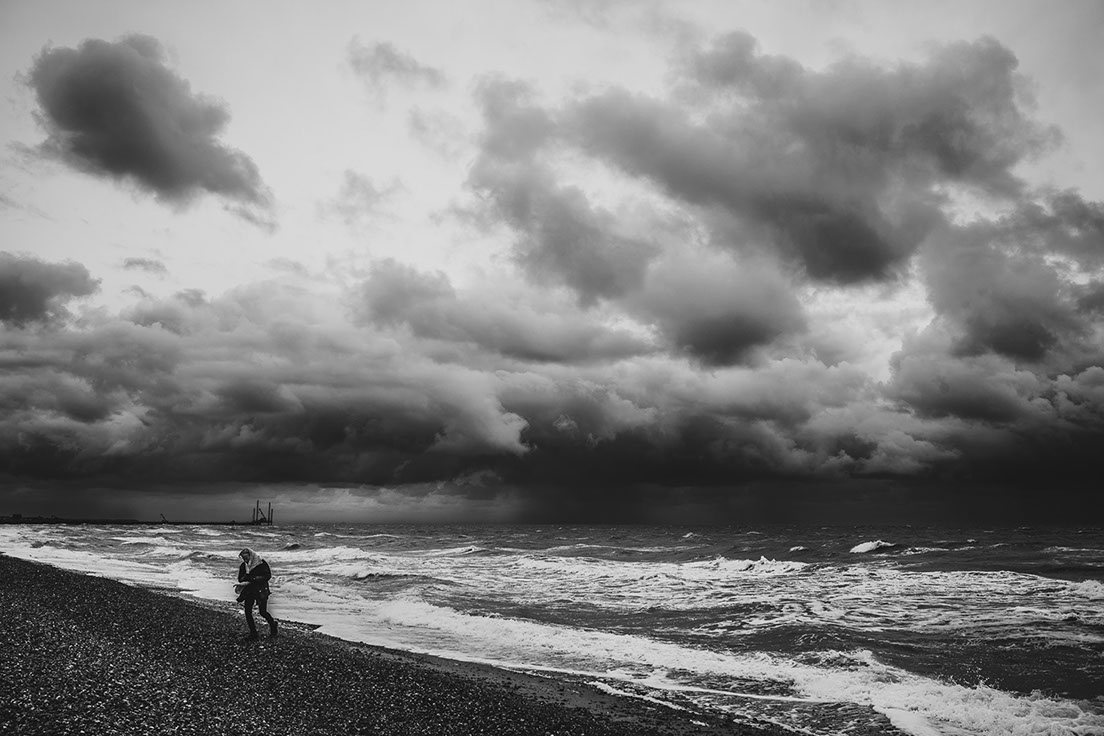 Stormy Suffolk
Leica M11 ISO 64 1/500th f4.8 28mm Summilux Asph
Digital Zoom (Crop Mode)
This works the same way as on the Q and Q2, and you need to use it in conjunction with the rear screen or the EVF.
Off 9504 x 6320 (60mp)
1.3x crop 7680 x 5104 (39mp)
1.8x crop 5248 x 3472 (18mp)
This can either be chosen through the menu or it can be allocated to one of the function buttons - You choose 1.3 crop or 1.8 crop and Live View framelines are brought up separately for each crop. Whilst the EVF/LCD still shows the entire sensor.
If you are shooting with a 28mm lens that equates to approximately 36mm and 50mm, with a 35mm lens it will be approximately 45mm and 64mm etc. The EVF only shows the frameline for the chosen crop (1.3 or 1.8)
The DNG file shows as cropped in Lightroom: Using the crop tool will show the whole image with the crop lines. (Again, just as it does in the Q2)
If you have selected a Lower resolution DNG or JPG file and then you choose Digital Zoom the camera will revert to full sized DNG/JPG (quite right as well).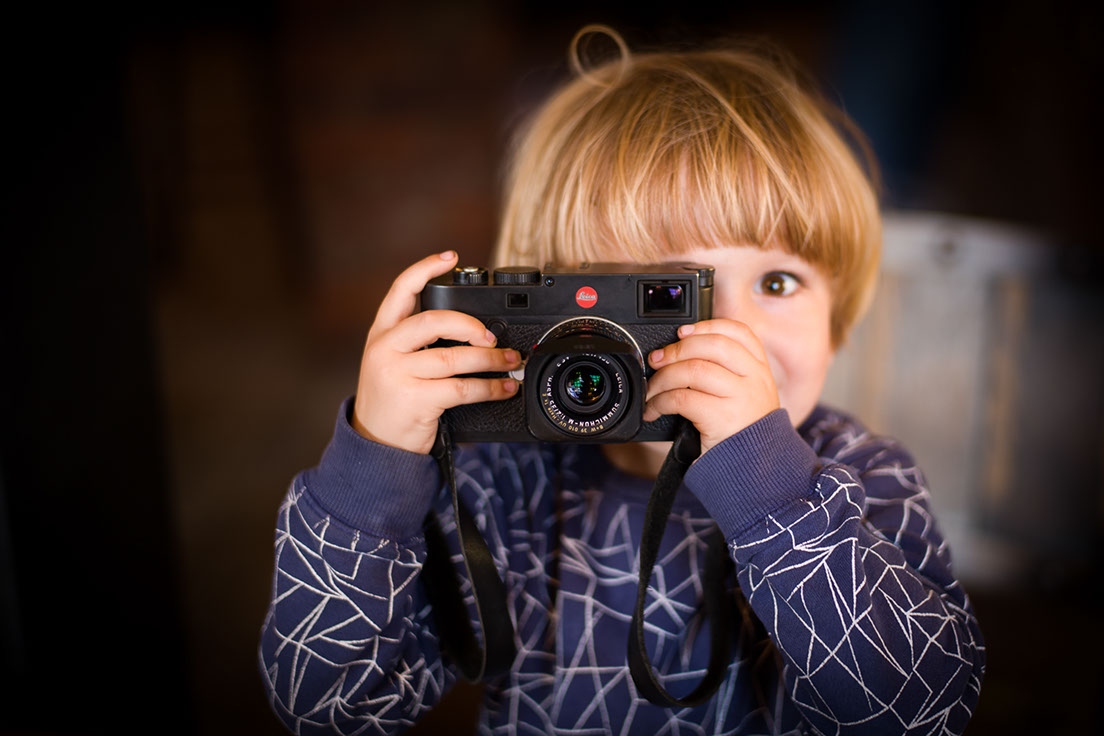 Starting Young
Leica M11 ISO 250 1/100th f1.4 50mm Summilux Asph
Apple MFI Compatibility and Fotos
MFI compatibility means that the M11 is the first Leica camera to be accredited by Apple to be compatible with iOS for both the iPhone and the iPad. this means that there will be much better GPS tagging using low power Bluetooth later on in the year.
The M11 already has the fastest WiFi file transfer to Fotos of any of the Leica cameras, and this will be improved further later on in 2022.
In the meantime Fotos 3.0 has been released together with the M11, this allows connecting both by cable and by WiFi, and you can now filter selections by Favourites, and File Type, Downloaded / not downloaded.
Downloaded images can be transferred directly to Lightroom.
Remote control and 'Tethering' both work reasonably well with the M11, both with cable and with WiFi.
Miaou
Leica M11 ISO 641/320th f2.4 50mm Summilux Asph
However, this is all rather a work in progress, and an expected firmware update and some Fotos updates will improve things incrementally over the next year. Specifically , coming later in 2022 are:
5 GHz dual band IEEE802.11 Wifi
Bluetooth connectivity (low power)
GPS geottaging from your phone to the camera.
Cables and Compatibility
If you want to connect to your iPhone then the camera comes with a braided and branded Leica cable which is Apple MFI compatible. If you want to connect to an iPad or Android device then you will need a USB - C to USB - C cable or you can use the cable which comes with the charger. I've tried various cables and most seem to work okay (with the possible exception of Thunderbolt 3 USB-C cables). It's worth mentioning that lots of devices are fussy about USB-C cables (which are not all the same).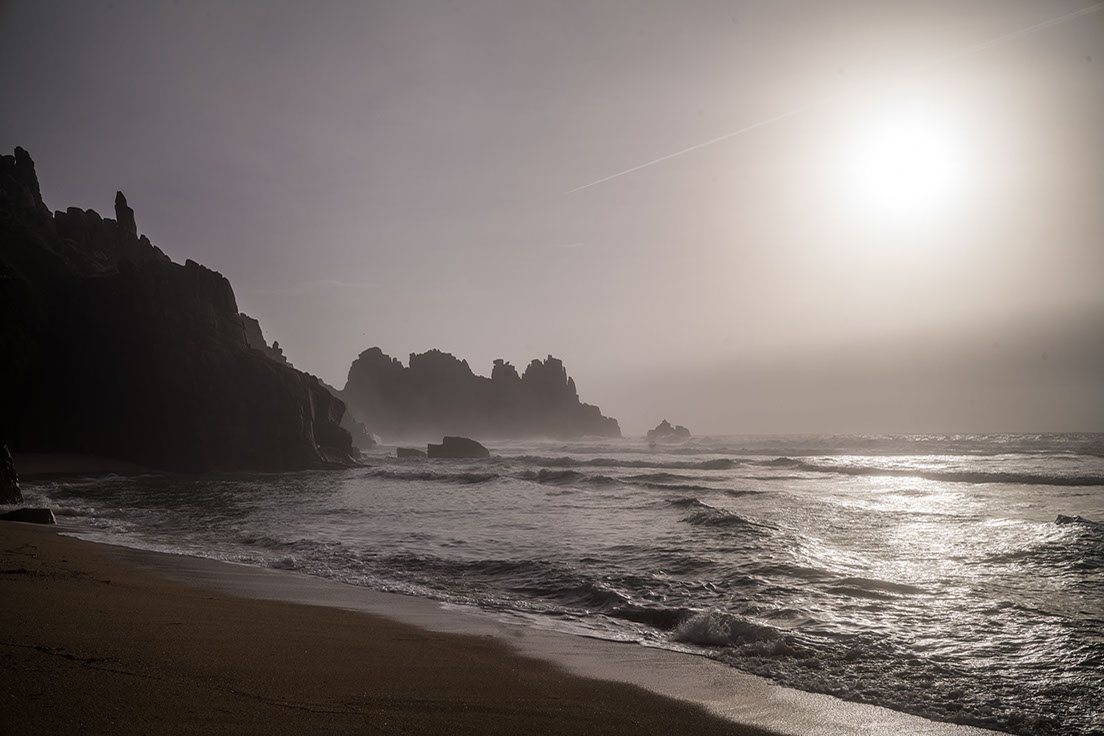 Pedney and the Logan Rock
Leica M11 ISO 64 1/1600th f8 50mm Summilux Asph
Connectivity via the USB-C cable to Lightroom and Photos will also be improved later in the year. You can select PTP or MFI for the USB mode in the camera settings. Later on if you select PTP you will be able to see the thumbnails for the DNG files (currently just a symbol).
PTP and MFI
PTP stands for Picture Transfer Protocol. This was developed by the International Imaging Industry Association to allow the transfer of images from digital cameras to computers and peripherals without the need for additional drivers. It shows the device within the application, but not in the Explorer/Finder screen.
MFI stands for Made for iPhone/iPad and is a licensing program for developers of hardware and software peripherals that work with iOS devices. Leica has passed the certification for this (it's displayed in the Camera Information / license information section of the menu.)
If you are planning to use the USB to connect directly to Lightroom or Photos on your computer then it's probably worth shooting DNG+JPG for the time being (until you can see the thumbnails in the DNG files).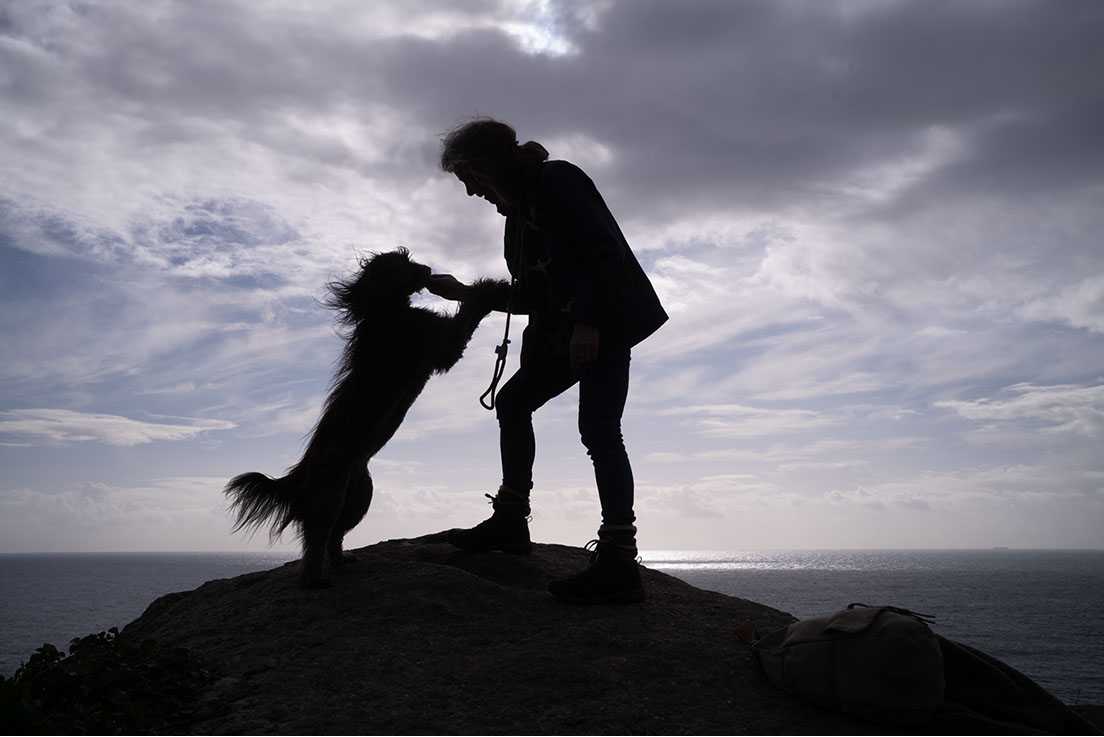 Treat Time
Leica M11 ISO 64 1/750th f9.5 35mm APO Summicron Asph
Changed Menu System
The Menu system has been changed a lot to reflect the menus in the SL2 and Q2, this might not be to everyone's taste, but it has to make sense. I'm certainly grateful as it makes event shooting with the M11 and the SL2 much simpler.
Pressing the Menu button once brings up a touch screen quick menu just like that on the SL2 and Q2. Pressing it twice takes you to a favourites menu with items which can be switched off and on in the Customise Control / Edit Favourites. If nothing is chosen then the favourites menu is omitted and the second press of the menu button takes to to the menus themselves.
Redgrave Park Lake
Leica M11 ISO 64 1/750th f9.5 28mm Summilux Asph
With the M10 I found the favourites very useful, but with the M11 the quick menu really has everything you are likely to need quickly, and the main menus are better organised than they are in the M10 (at least, this is pretty subjective stuff, but I like them better).
The Quick Menu screen replaces the old status screen which was raised by pressing the centre button of the 4 way controller on the M10 (this only acts as an OK button for menu selections)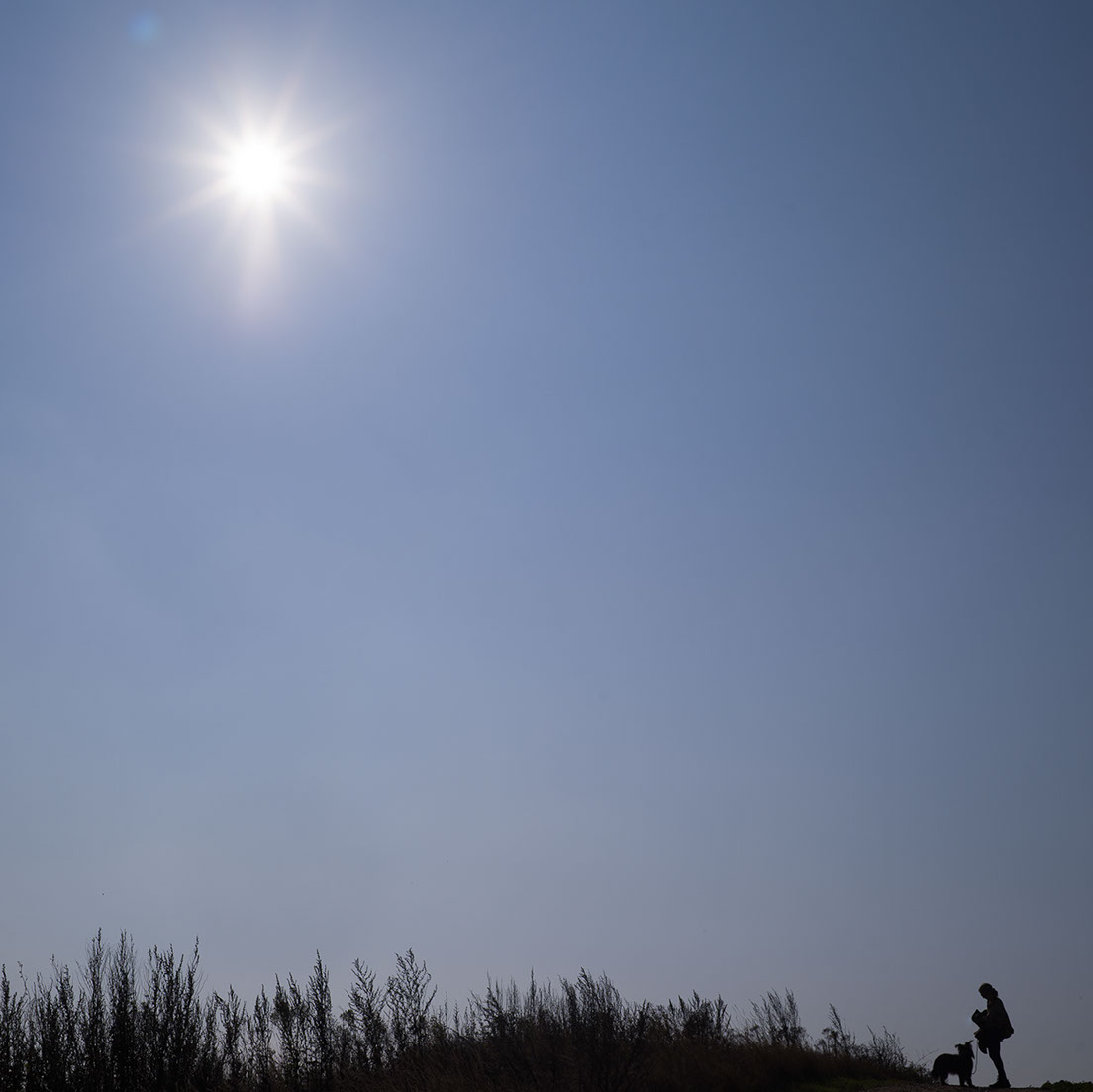 Treat Time
Leica M11 ISO 64 1/2000th f3.4 35mm Summilux Asph
The Lens Detection menu is much improved with an option to 'Edit list of M lenses' and also 'Edit List of R lenses'. When you choose this the list presents all the lenses just as it did with the M10, but you can switch lenses off and on. This means that if you just have a couple of uncoded lenses, when you choose Manual M you are presented with those lenses (with Edit List at the bottom). For example my list looks like:
35 f1.4 11869/11870/11860
90 f2.8 11807/11808
50 f1.4 11868/11856/11114
Edit List of M lenses
As before it remembers the last used uncoded lens and uses that as the default.
Dragon Trousers
Leica M11 ISO 100 1/160th f11 Wide Angle Tri-Elmar at 16mm
Wetzlar
Leica M11 ISO 64 1/3000th f3.4 75mm APO Summicron Asph
Things worth talking about
Startup time and Power Settings
I've compared the startup / wakeup times to that of the M10 as best as I can. If you are using Live View, then the image comes up on the LCD / EVF on the M10 about 1/2 second more quickly than on the M11. On the other hand, with Live View switched off on both cameras, if you hold down the shutter and switch on the camera then the M11 takes an image about 1/2 second before the M10.
However, the greatly improved battery life on the M11 proves to be a real life saver here. Under Menu / Camera Settings / Power saver mode I have Camera Standby set to Off, and Display Standby set to 30 seconds and I would recommend that you start off doing the same..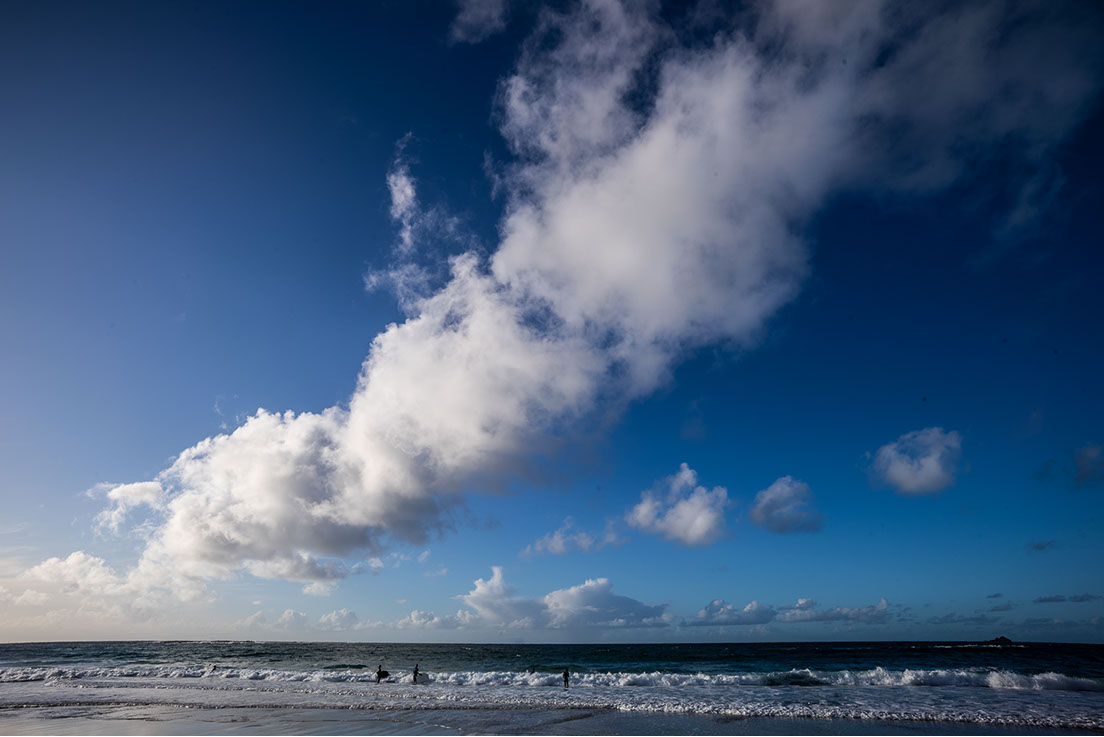 Sennen
Leica M11 ISO 64 1/160th f8 Wide Angle Tri-Elmar at 16mm
This works very well, wake up is almost instant, and the battery doesn't drain fast if you aren't shooting, even with the EVF attached (unlike the M10 where the EVF seemed to drain the battery incredibly fast).
During the testing period (7 months) I've only had one battery, and (as long as I remembered to charge it) I've never managed to exhaust it during a day shooting - even with the EVF attached and power saving turned off.
Full time exposure metering and shutter lag
The shutter lag using the M10 with Live View was noticeable, and significantly longer than with Live View turned off (because of the need to close the shutter before opening it for the exposure).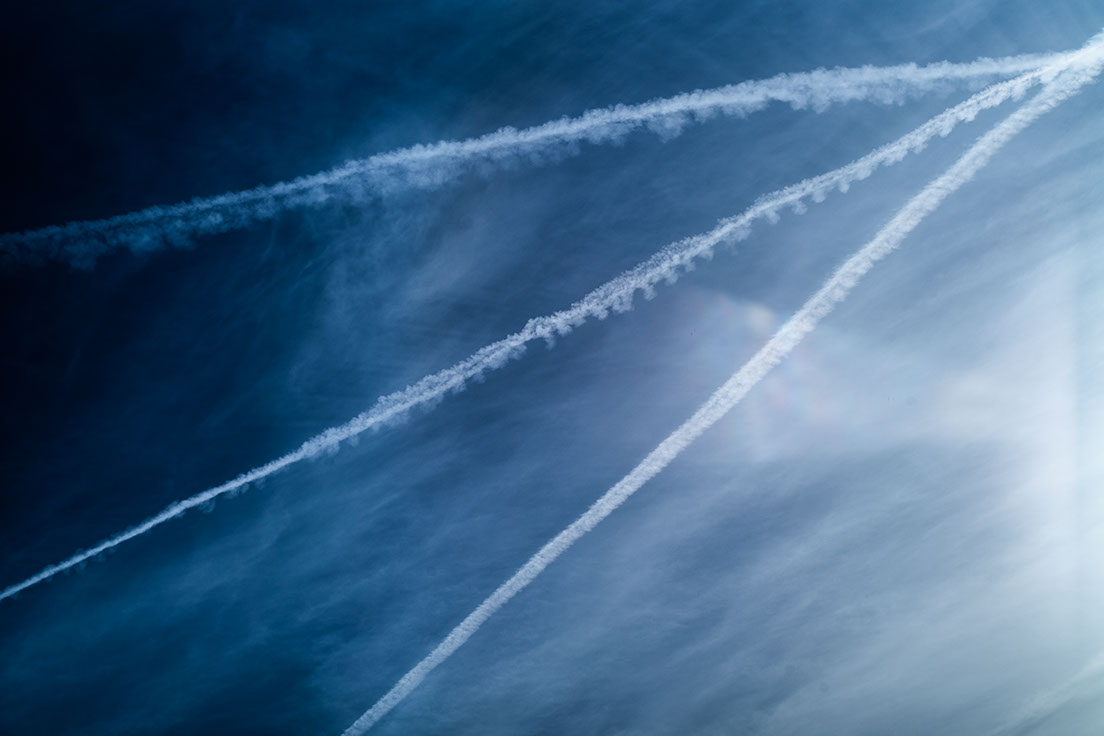 Always use a Tripod
Leica M11 ISO 64 1/4000th f5.6 75mm APO Summicron Asph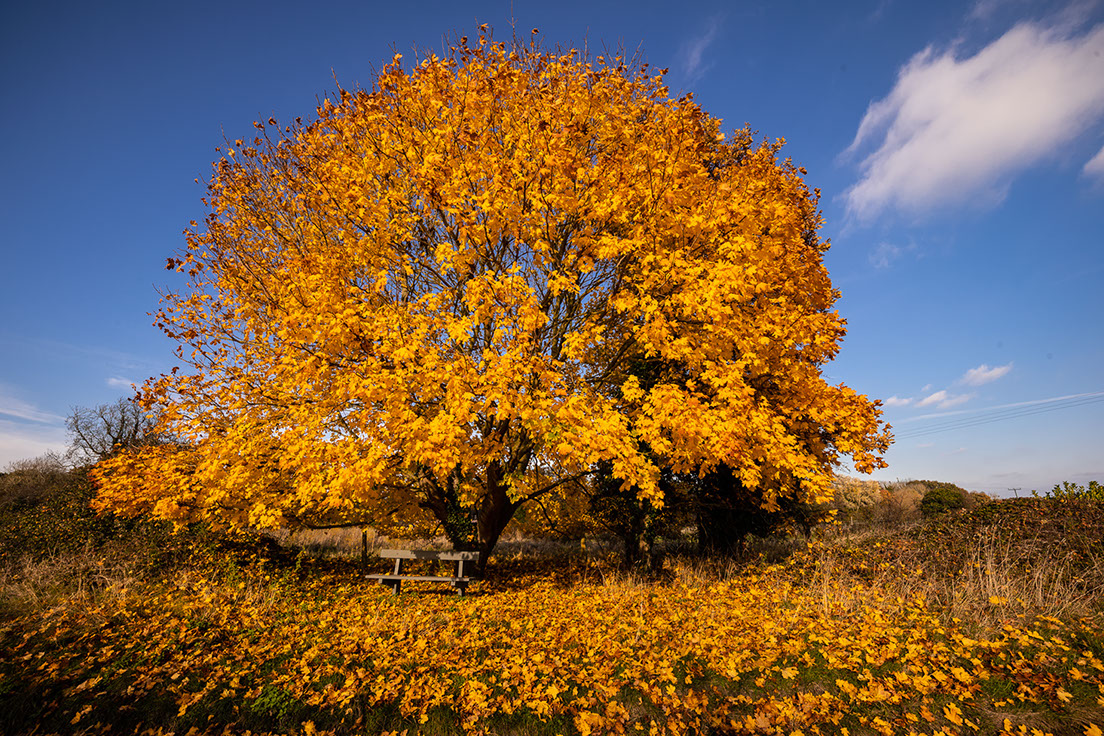 Field Maple
Leica M11 ISO 80 1/100th f4 Wide Angle Tri-Elmar at 16mm
The M11 is effectively in Live View all the time (even if the EVF/LCD are turned off). This means that the shutter must first close before opening it for the exposure (just like the M10 in Live View).
I wanted to find out whether the M11 suffered from shutter lag the same way as the M10 with Live view, but it's hard to measure shutter lag! In the end I devised an experiment which would measure the difference in shutter lag between the two cameras (rather than measuring the actual shutter lag which needs specialised equipment).
What I found was that the shutter lag on the M11 was effectively the same as that on the M10 with Live View switched off, and much less than the M10 with Live View switched on; which is good news.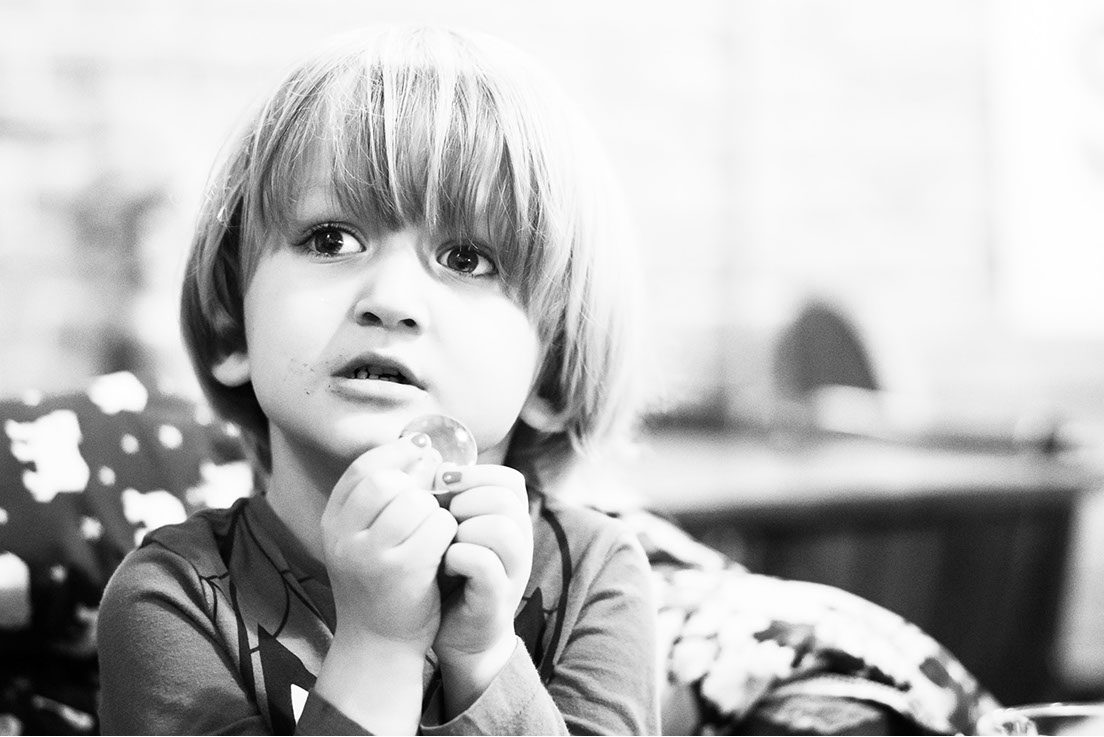 Which lens does this element come from?
Leica M11 ISO 8000 1/180th f4 90mm Elmarit M
Can Leica Lenses 'resolve 60mp'
I wonder how many times this question will be asked? I've resorted to help from the wonderful Roger Cicala at Lens Rentals for this (not because I couldn't say it myself, but because he says it so beautifully and so convincingly).
Roger's article "More Ultra High Resolution MTF Experiments" can be found here:
https://www.lensrentals.com/blog/2019/10/more-ultra-high-resolution-mtf-experiments/
But in this context the real point is his appendix "Why Megapixels are Stupid" which he has very kindly allowed me to print here:
Appendix: Why Perceptual Megapixels are Stupid
I get asked several times a week if this lens or that is 'capable of resolving' this number of megapixels. Some people seem to think a lens should be 'certified' for a certain number of pixels or something. That's not how it works. That's not how any of it works.
<snip>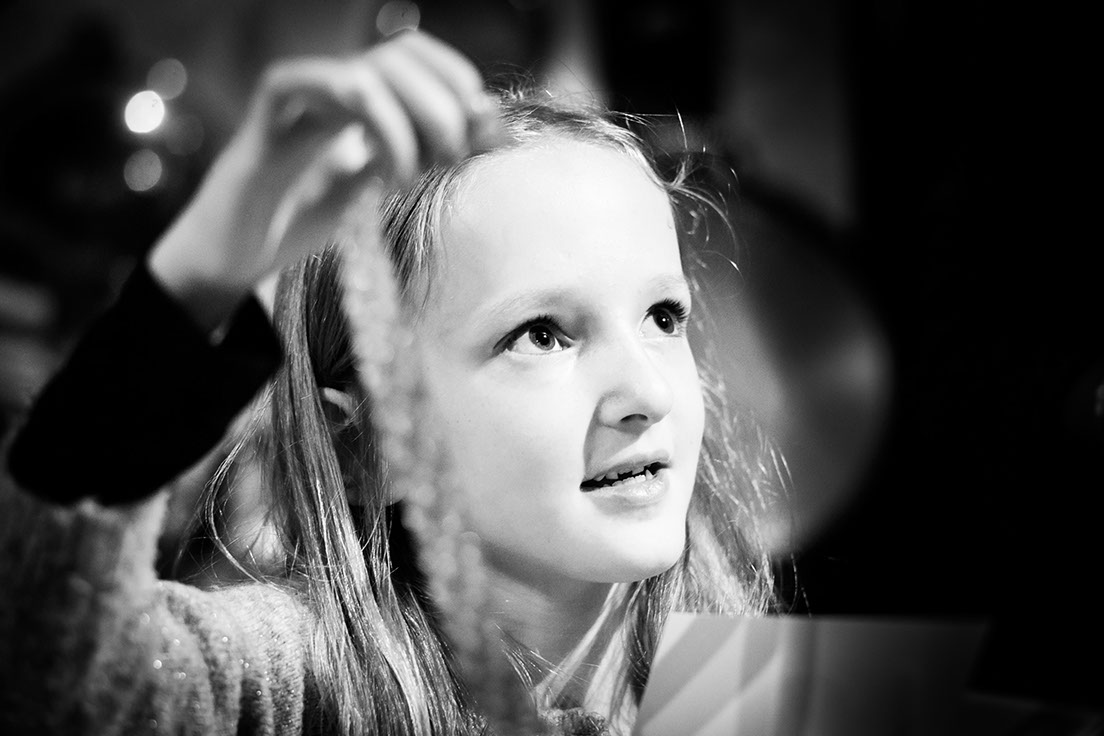 Look
Leica M11 ISO 8000 1/180th f4 90mm Elmarit M
Lots of people think that will be 'whichever is less of the camera and lens.' For example, my camera can resolve 61 megapixels, but my lens can only resolve 30 megapixels, so all I can see is 30 megapixels.
That's not how it works. How it does work is very simple math: System MTF = Camera MTF x Lens MTF. MTF maxes at 1.0 because 1.0 is perfect. So let's say my camera MTF is 0.7, and my lens MTF is 0.7, then my system MTF is 0.49 (Lens MTF x Camera MTF). This is actually a pretty reasonable system.
Now, let's say I get a much better camera with much higher resolution; the camera MTF is 0.9. The system MTF with the same lens also increases: 0.7 X 0.9 = 0.63. On the other hand, I could do the same thing if I bought a much better lens and kept it on the same camera. The camera basically never 'out resolves the lens.'
<snip>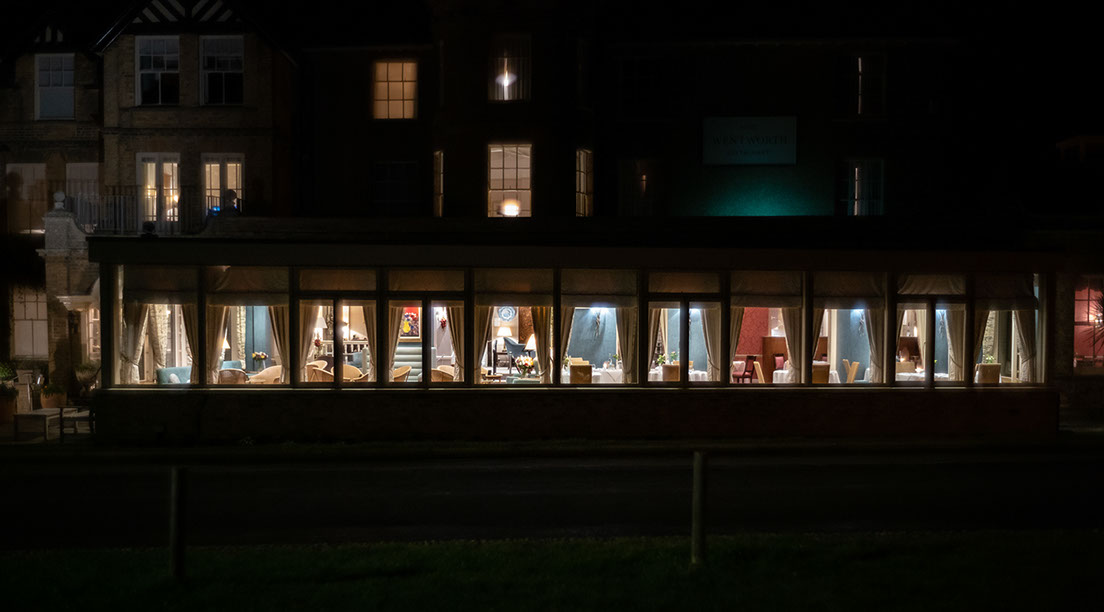 Aldeburgh Evening
Leica M11 ISO 5000 1/125th f4 35mm Summilux
If you have a reasonably good lens and/or a reasonably good camera, upgrading either one upgrades your images. If you ask something like 'is my camera going to out resolve this lens' you sound silly.
Roger's rule: If you have either a crappy lens or crappy camera, improve the crappy part first; you get more bang for your $. I just saw a thread for someone wanting to upgrade to the newest 60-megapixel camera, and all of his lenses were average zooms. I got nauseous.
I think this is beautifully put, simply speaking, using the M11 will improve your results from vintage glass as well as from the most modern APO lenses.
Maggie Hambling's Scallop Sculpture on Aldeburgh Beach
Leica M11 ISO 320 1/180th f16 Wide Angle Tri-Elmar at 16mm
Tough (oh yes) (don't do this at home!)
When I test cameras that is just what I do, they don't get babied because that isn't the point. On the other hand, generally speaking I don't test them by dropping them from more than a metre (say 4ft) from the back of our van onto a tarmac road, it doesn't seem fair. More than this, I don't do it when my own personal 35 APO Summicron is attached!
Except that's exactly what I did; My backpack tipped over, the top opened and the camera dropped out . . it rolled off down the road, I don't think I need to explain the pain that this caused me. I can feel hundreds of readers cringing as they read this.
There is a small chip on the corner of the top plate and a scuff on the ISO dial (which still works perfectly). This was from where it actually hit the road, there are no marks on the paintwork from where it rolled (just a bright mark and a ding on the lens cap for the 35 APO). Of course I was lucky, but still it shows that the camera is tough, indeed, I feel that the removal of the base plate has probably made the camera more rigid and resilient.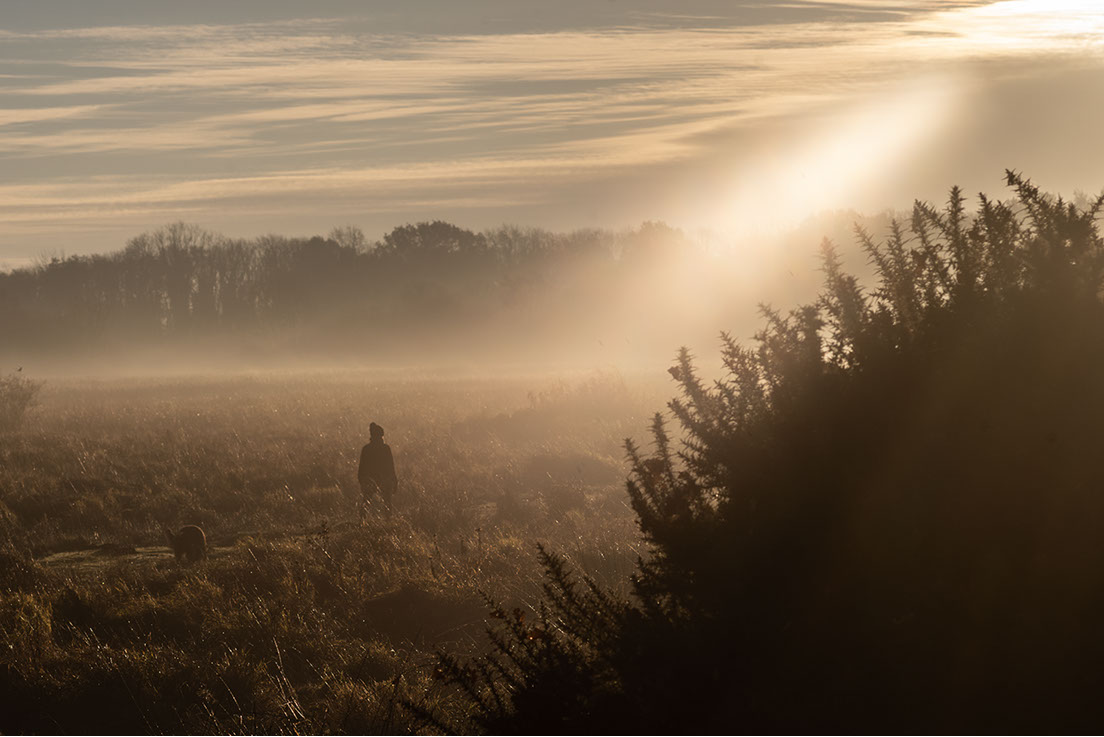 Lighting the way
Leica M11 ISO 64 1/1000th f2.8 90mm Elmarit M
This was a couple of months ago. Before that the camera had been on numerous dusty sweaty treks around Crete, and chilly wet ones in the UK.
For Christmas I was given a splendid modern waterproof jacket, and we went off to the Suffolk Coast to test it out it on a particularly nasty winter morning. It wasn't raining much to start with, but after 2.1/2 hours when we got back to the van I found that the jacket had actually become pretty waterlogged, I simply hadn't realised how bad the weather was. The M11 had either been over my shoulder or in my hands (I took a lot of photos, it's an atmospheric place!). It had been switched on for the entire time.
When we got home I dried off the outside of the camera (which was very wet) I then checked in the battery/SD compartment and the lens mount and everything was completely dry. My coat weighed almost a kilo more than it did when we started!
Of course you shouldn't try this (and I didn't mean to), but I think this shows that the M11 is really tough - really really tough.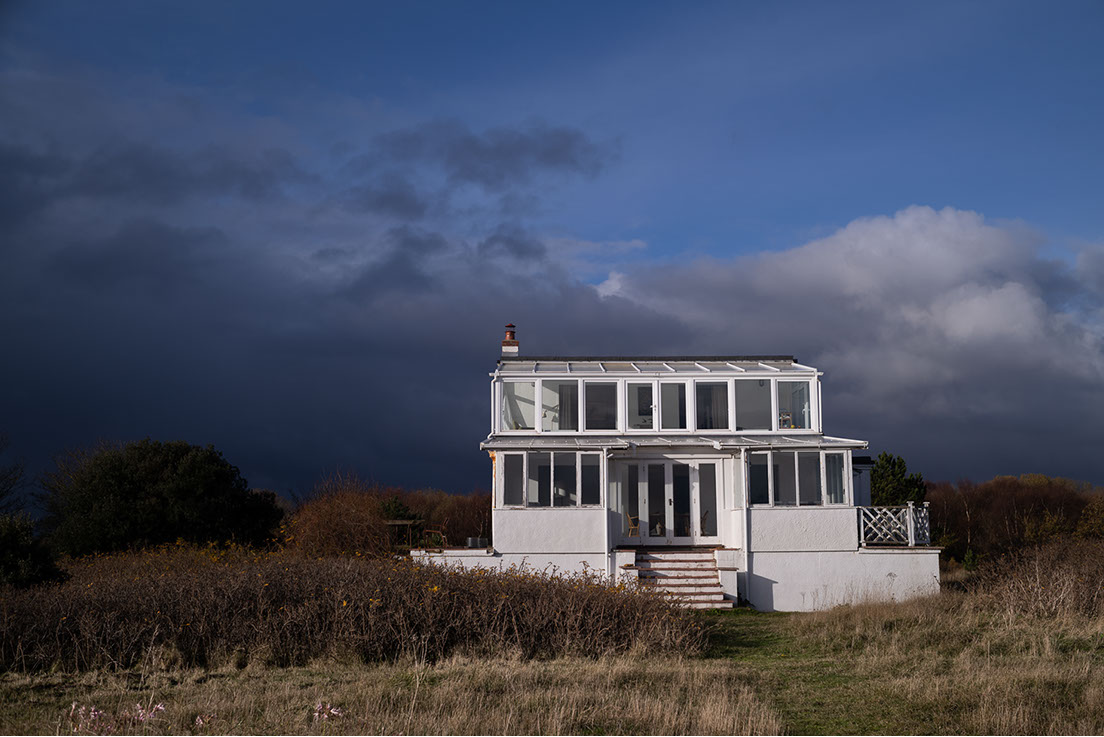 The House on the Hill
Leica M11 ISO 320 1/1250th f4.8 35mm Summilux
Shooting 60mp with a rangefinder
I've seen a lot of people saying that the antiquated rangefinder is not good enough to focus with such a high resolution sensor. If you're planning to focus on the third eyelash from the left in low light with your 0.95 Noctilux wide open then I might agree, but that's pretty tough with an EVF as well!.
I still find focusing with a rangefinder a thing of beauty and wonder, and extremely efficient, and I haven't changed my mind after thousands of shots with the M11; there are times when I like the EVF, but if I want to shoot quickly with the M11 then the rangefinder does a great job, just as it always has. Added to which it's such a pleasure focusing with a rangefinder!
Of course, if you are planning to print your 60mp shots 6ft by 4ft then you need to be a bit more careful with the focus, but that was always the case whatever the resolution of the sensor.
Tractor Time
Leica M11 ISO 64 1/2500th f2 50mm Summilux Asph
Pulling it all together
Superficially the M11 looks like an M10 with higher resolution, but actually it's quite a revolution in terms of image quality, connectivity and functionality. To sum up:
The new base improves weather sealing and strength
New black paint option is very resilient with grippy finish
Aluminium top plate on black version makes it 110 gms lighter
Button layout is now the same as the SL2 and Q2
3 New programmable function buttons (Fn, top-plate, thumbwheel)
New battery with 700 shot CIPA standard
64Gb of very fast internal memory
Brand new and faster Maestro III processor
New 60mp BSI sensor with excellent dynamic range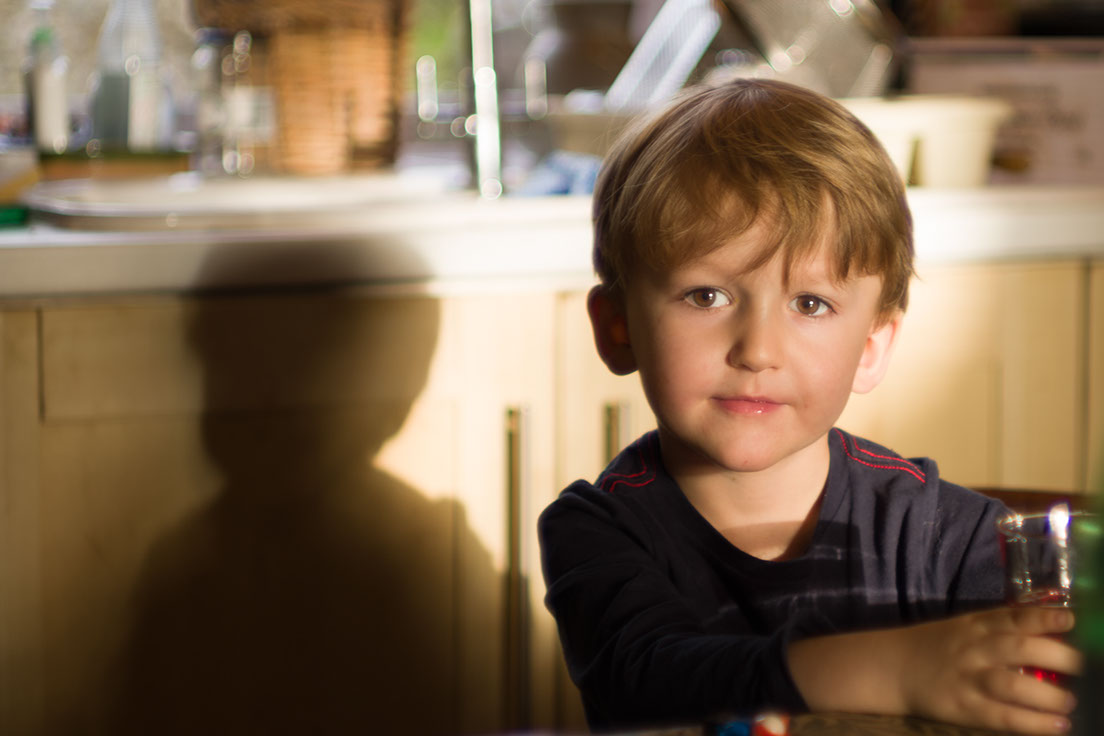 Roo
Leica M11 ISO 64 1/160th f3.4 Voigtlader 50mm f1.5 Heliar Classic
Full time off-sensor metering (much more accurate, no extra shutter lag)
Electronic Shutter (up to 1/16,000 sec)
USB-C Charging,
PTP and Apple MFI connectivity using USB-C port
Improved Fotos app allowing filtering selections and tethering
New well constructed EVF with bigger and brighter image (like Q2)
The New LCD has more than twice the resolution of that on the M10
Both EVF and LCD have image stabilisation (to help compose/focus)
Combined Quick Menu and status screen
Menus changed to be even more comparable with Q2 and SL2
Improved menu system for uncoded M lenses
Digital Zoom mode with framelines for 1.3 and 1.8 crops
Variable DNG size (18.4mp, 36.5mp and 60.3mp)
That's a big list of improvements!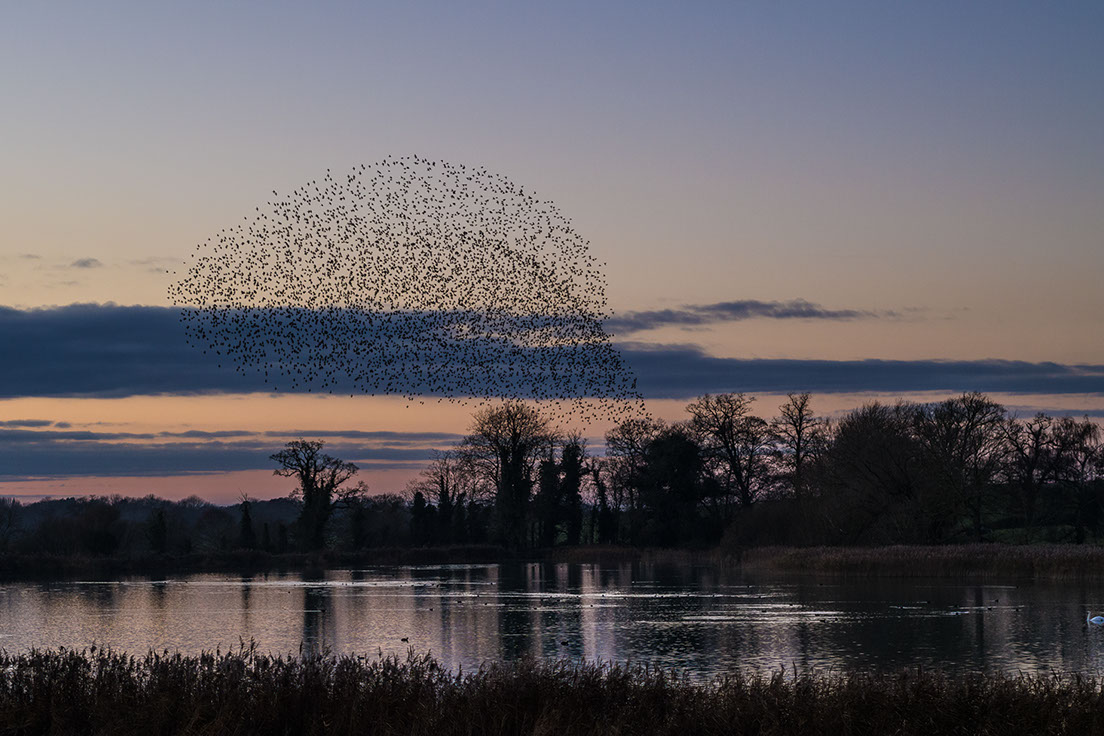 Murmuration of Redgrave Park
Leica M11 ISO 500 1/250th f4.8 75mm APO Summicron
Should I buy one?
Yes, I should (me, personally), more relevantly, should you buy one? I think that if you've got an M10-R, and you are happy with the image quality, resolution and operation, then the only really good reasons for upgrading are the internal memory, the electronic shutter, the better battery and the USB-C functions. If you are shooting with an earlier M10 or a previous digital Leica then the improvements to image quality and resolution are really very compelling.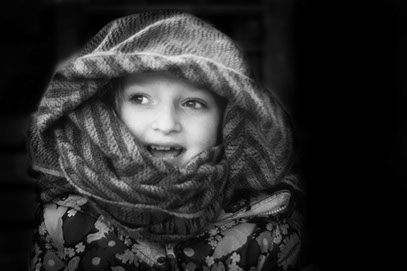 Scarlett
Leica M11 ISO 160 1/60th f2.8 90mm Elmarit M
Conclusion
Leica have worked hard during the 5 years since the launch of the M10 and they have managed to produce a camera that is improved in so many ways whilst still retaining the fundamental essence of the M camera (Messsucher). I'm sure that lots of people will be sad to see the demise of the baseplate, but you quickly get to like the idea that you no longer have to worry about it dropping on the floor!
The M11 is a camera which is suitable for any photographic assignment where autofocus is not required, but it's much more than that, the image quality is now up to medium format standards and the much improved EVF allows for critical focusing where it's absolutely necessary. The electronic shutter gives extra scope for shooting fast lenses wide open in bright light. The internal memory gives the extra security that photographers usually get with dual SD card slots.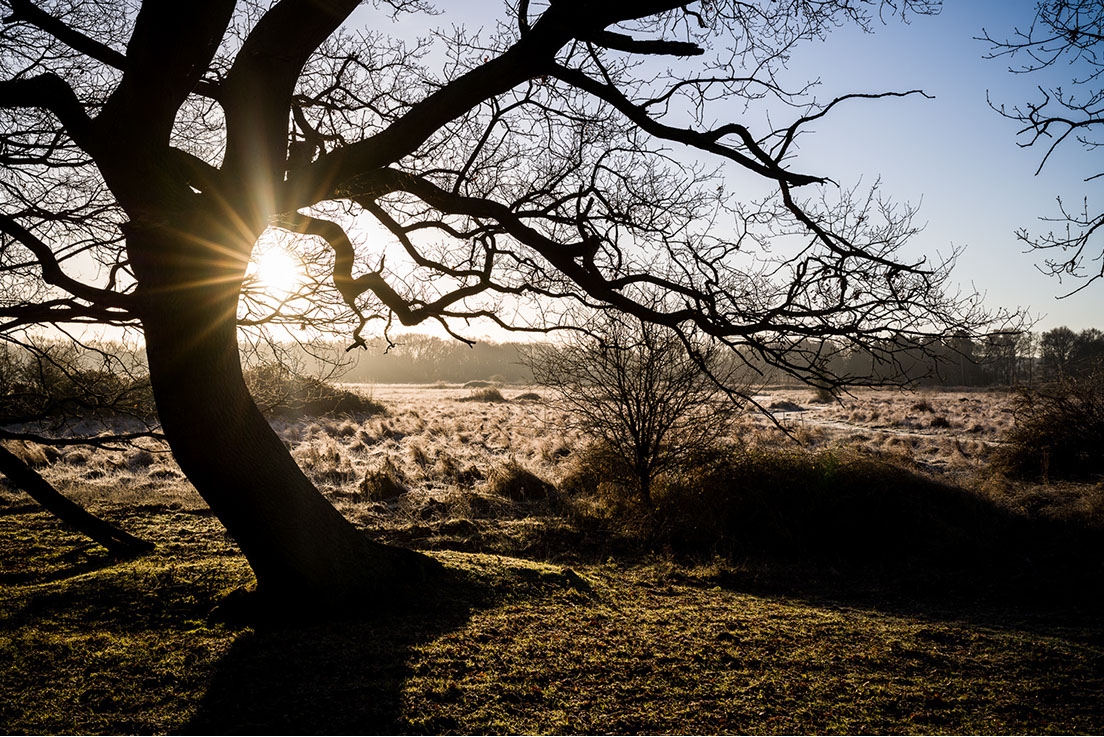 Frosty Sunburst
Leica M11 ISO 64 1/100th f9.5 35mm APO Summicron M
Although the M11 is not quite the smallest full frame camera with interchangeable lenses, it certainly is if you factor in the size of the lenses.
You might say that the M11 is the EVF based M mount camera that so many Leica aficionados have been asking for: They might complain that it's external, but it works so well, and you still have the advantage of having a proper rangefinder camera.
But for me the real purpose of any M camera is the ability to work with a rangefinder, and with the fantastic Leica lenses, both old and new. The M11 adds proper multi point metering without any speed sacrifice, improved image quality and less vignetting.
At first glance one might be tempted to think that the M11 is a small step up from the M10, but a longer look shows that it is improved in almost every respect. The changes may be evolutionary rather than revolutionary, but of course, that's what every existing M user really wants. On the other hand the much improved EVF and the added connectivity is likely to please existing users and to attract new ones.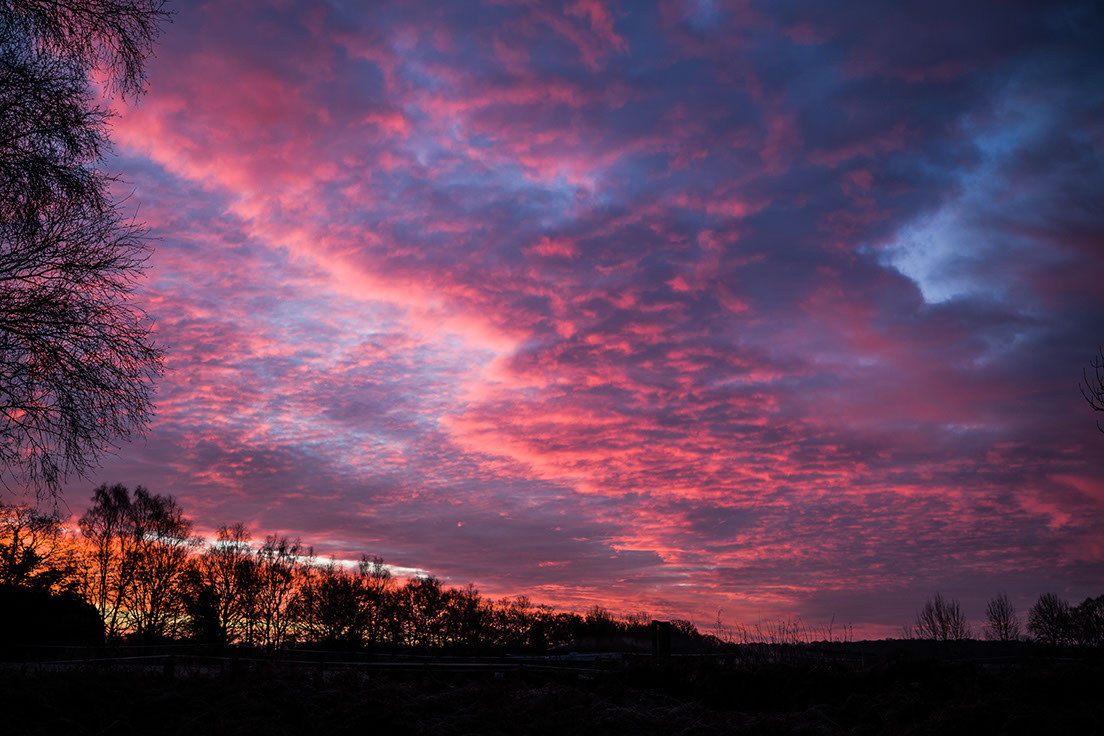 A New Beginning (Sunrise over Middle Fen Cottage)
Leica M11 ISO 250 1/80th f6.8 35mm APO Summicron M
Acknowledgements
First of all to Emma, who has to put up with me spending hours testing, and telling her important things (which she is always polite about!). Also to Oscar, Scarlett and Roo for being such patient models.
Secondly to the guys at Leica; Stefan Daniel, Jesko von Oeynhausen and Viktor Weigant who have patiently answered questions and been generally great to work with.
Then to the other guys on the LUF Beta Forum (you know who you are). What a great bunch of people, it's been really fun working with you all and lets hope we can meet up for that beer later on in the year!
Thank you Evris at Rock 'n Roll Straps for producing great straps - especially the new LHSA 'Film' strap pictured on the M11 below. Click on the link to see more.
Finally to all the denizens of the Leica User Forum who have informed this article by speculating on what the camera would be (and what it would not), and thus helping me to decide what to talk about.
The Images
On each of the images in the article I have provided click through to full sized (but slightly compressed) jpg files in case that is helpful. I know people want to zoom in and look at the nitty gritty, but it is worth making a few points.
I always shoot DNG, and then process the images in Lightroom, all of these images have been processed one way or another, mostly by exposure and contrast adjustments and by cropping, In daylight I usually shoot Sunny White balance, and I rarely change the colour in post processing, but these images are definitely not 'out of the camera'.
When I chose the images to go with the article, I did not zoom in to see if they were sharp or had motion blur or were out of focus. I chose them because I like them, not because they are technically good. Obviously I do my best to make every image technically good, but I don't let that get in the way of a good photo!
Links
My old friend Sean Reid at (reidreviews.com) will be publishing a series of articles starting today with his field review it is a pay site but well worth taking a look.
This is what he has planned:
1. A field review of the M11 with speed and performance tests
2. Color studio tests comparing the M11 to the M10-R: color rendering, noise levels at various ISO settings (and, for the M11, at all three DNG sizes), color moire, infrared filtering effectiveness
3. Black & white studio tests comparing the M11 to the M10 Monochrom: tonal rendering, noise levels at various ISO settings (for the M11, at all three DNG sizes).
4. Tests of two 35 mm lenses on the M11, M10-R and M10M: resolution, luminance vignetting and color drift.
5. Tests of a 21 and a 28 mm lens on the M11, M10-R and M10M: resolution, luminance vignetting and color drift.
6. Tests of highlight headroom and useable dynamic range: M11, M10-R and M10 Monochrom
Amitava (Chats) Chatterjee and I have had long discussions about the M11. He has posted his first impressions here
Isn't it Wonderful
Leica M11 ISO 100 1/80th f5.6 35mm APO Summicron M
Another Sunrise or Redgrave Fen
Leica M11 ISO 64 1/80th f5.6 35mm APO Summicron M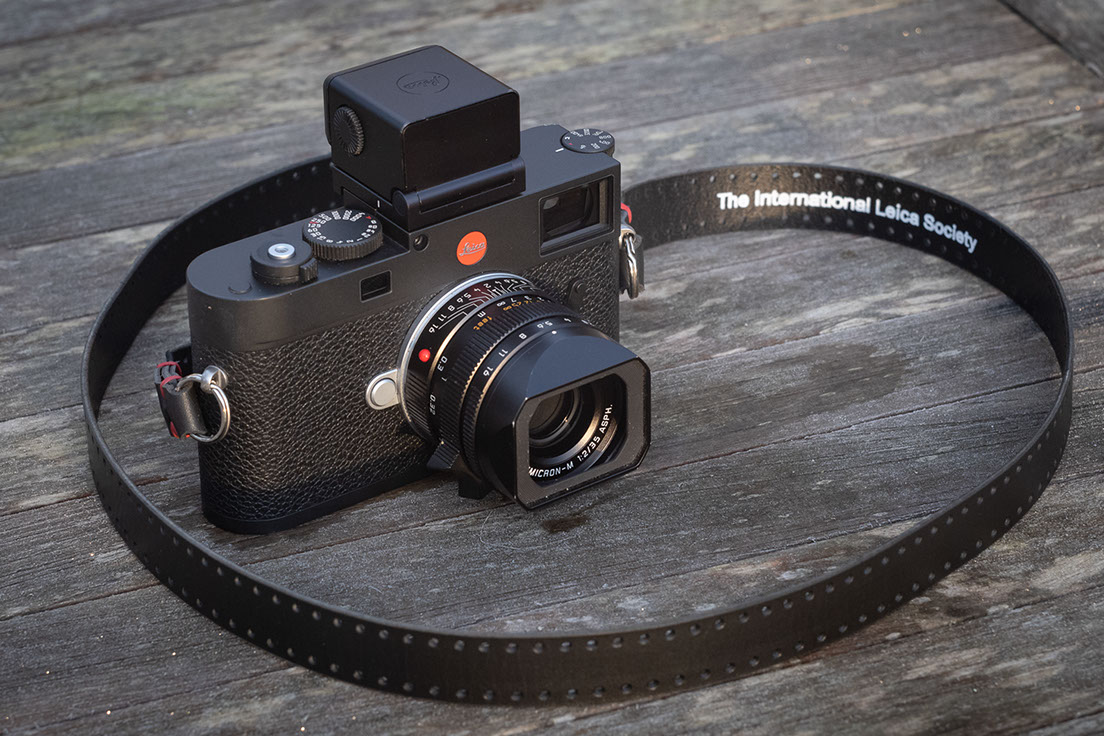 The Leica M11 with the International Leica Society 'Film Strap'
Leica M10_R ISO 500 1/125th f5.6 75mm APO Summicron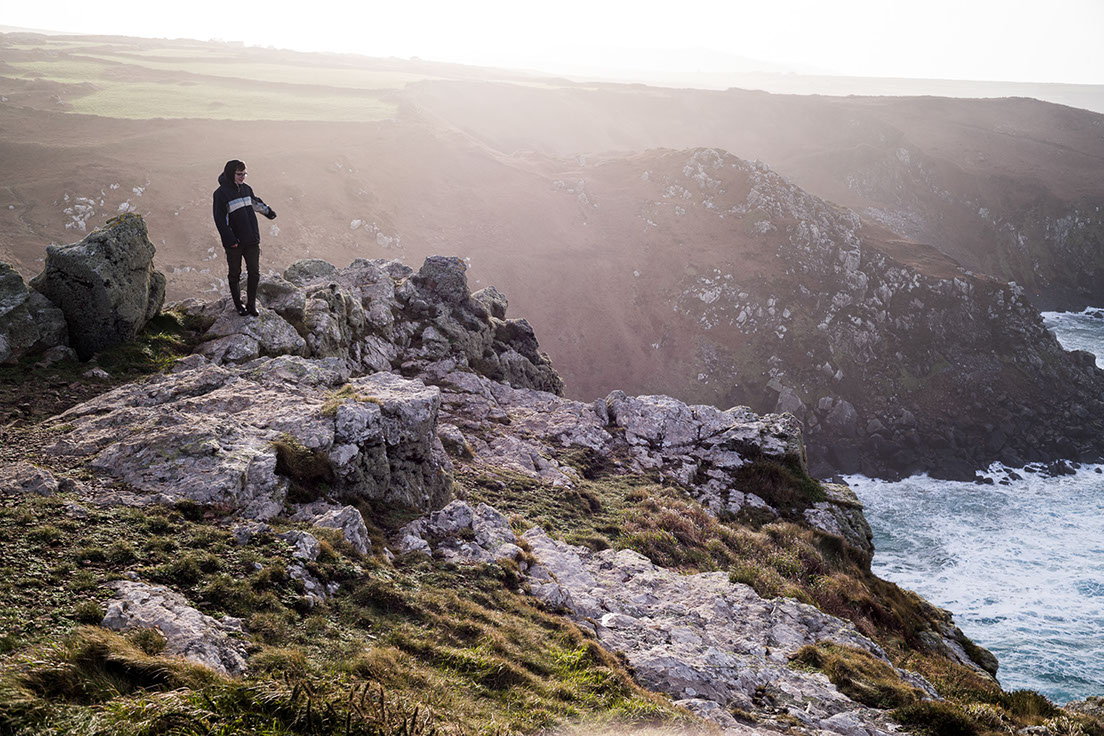 Oscar
Leica M11 ISO 250 1/100th f9.5 35mm Summilux